---

REBEL8 analysis game 3

---
The analysis is done at level 10:00 per move with Analyse Game (for both sides). After that the game is written to a text file with the Game to Textfile option.

View Rebel8 game overview





 White :  Garry Kasparov

 Black :  Deep Blue  

 Score :  ½-½

 Event :  Man Vs. Machine, the rematch

 Game  :  3

 Date  :  May 6, 1997

 Level :  Average time 10:00



For those who are not familiar with Rebel ...

- DEEP BLUE means the move played by DEEP BLUE through the eyes of Rebel.

- Kasparov, G means the move played by Kasparov through the eyes of Rebel.

- Rebel 8.0 means what Rebel 8.0 would have played here instead.

- If Rebel notices a remarkable score difference it is marked with 2 x "!!"



  1.  d2-d3    e7-e5  

  2. Ng1-f3   Nb8-c6  

  3.  c2-c4   Ng8-f6  

  4.  a2-a3    d7-d6  

  5. Nb1-c3   Bf8-e7  

  6.  g2-g3     O-O   

  7. Bf1-g2   Bc8-e6  

  8.   O-O    Qd8-d7  

  9. Nf3-g5  

     Kasparov,G  :11.00  0.10  Nf3-g5 Be6-f5 b2-b4 h7-h6 b4-b5 Nc6-d8          

     Rebel 8.0   :11.00  0.10  b2-b4 e5-e4 Nf3-g5 e4xd3 e2xd3 Be6-g4       

  9.          Be6-f5  

     DEEP BLUE   :11.00  -0.04  Be6-f5 b2-b4 h7-h6 Ng5-f3 a7-a5 b4-b5          

     Rebel 8.0   :11.00  -0.04  Be6-f5 b2-b4 h7-h6 Ng5-f3 a7-a5 b4-b5       

 10.  e2-e4  

     Kasparov,G  :10.00  -0.01  e2-e4 Bf5-g4 Bg2-f3 Nc6-d4 Bf3xg4 Qd7xg4       

     Rebel 8.0   :10.01  0.12  b2-b4 h7-h6 Ng5-f3 a7-a5 b4-b5 Nc6-d4       

 10.          Bf5-g4  

     DEEP BLUE   :12.00  0.03  Bf5-g4 f2-f3 Bg4-h5 Bc1-e3 a7-a6 Ra1-c1         

     Rebel 8.0   :12.00  0.03  Bf5-g4 f2-f3 Bg4-h5 Bc1-e3 a7-a6 Ra1-c1      

 11.  f2-f3  

     Kasparov,G  :12.00  0.02  f2-f3 Bg4-h5 Bc1-e3 a7-a6 Ng5-h3 Ra8-d8         

     Rebel 8.0   :12.00  0.02  f2-f3 Bg4-h5 Bc1-e3 a7-a6 Ng5-h3 Ra8-d8       

 11.          Bg4-h5  

     DEEP BLUE   :12.00  0.05  Bg4-h5 Bc1-e3 a7-a6 Ng5-h3 Ra8-d8 Nc3-d5        

     Rebel 8.0   :12.00  0.05  Bg4-h5 Bc1-e3 a7-a6 Ng5-h3 Ra8-d8 Nc3-d5       

 12. Ng5-h3  

     Kasparov,G  :11.00  -0.03  Ng5-h3 Nc6-d4 Bc1-e3 c7-c5 Nh3-f2 a7-a5        

     Rebel 8.0   :11.00  0.03  Bc1-e3 a7-a6 Ng5-h3 Ra8-d8 Nc3-d5 Nf6xd5      

 12.          Nc6-d4  

     DEEP BLUE   :11.00  0.13  Nc6-d4 Bc1-e3 c7-c5 Nh3-f2 a7-a6 Ra1-c1         

     Rebel 8.0   :11.00  0.13  Nc6-d4 Bc1-e3 c7-c5 Nh3-f2 a7-a6 Ra1-c1      

 13. Nh3-f2  

     Kasparov,G  :11.00  -0.05  Nh3-f2 c7-c5 Bc1-e3 a7-a6 Ra1-c1 b7-b5         

     Rebel 8.0   :11.00  -0.05  Bc1-e3 c7-c5 Nh3-f2 a7-a6 Ra1-c1 b7-b5      

 13.           h7-h6  

     DEEP BLUE   :11.00  0.10  h7-h6 Bc1-e3 c7-c5 b2-b4 a7-a5 b4-b5            

     Rebel 8.0   :11.00  0.09  a7-a6 Bc1-e3 c7-c5 g3-g4 Bh5-g6 f3-f4      

 14. Bc1-e3  

     Kasparov,G  :12.00  0.02  Bc1-e3 c7-c5 g3-g4 Bh5-g6 f3-f4 e5xf4           

     Rebel 8.0   :12.00  0.02  Bc1-e3 c7-c5 g3-g4 Bh5-g6 f3-f4 e5xf4       

 14.           c7-c5  

     DEEP BLUE   :11.00  0.06  c7-c5 g3-g4 Bh5-g6 f3-f4 e5xf4 Be3xf4           

     Rebel 8.0   :11.00  0.07  c7-c5 g3-g4 Bh5-g6 f3-f4 e5xf4 Be3xf4       

 15.  b2-b4  

     Kasparov,G  :10.00  -0.01  b2-b4 a7-a5 b4-b5 Be7-d8 Ra1-b1 Rf8-e8         

     Rebel 8.0   :10.08  0.01  g3-g4 Bh5-g6 f3-f4 e5xf4 Be3xf4 Ra8-d8       

 15.           b7-b6  

     DEEP BLUE   :10.00  0.04  b7-b6 g3-g4 Bh5-g6 f3-f4 e5xf4 Be3xf4           

     Rebel 8.0   :10.01  0.05  a7-a6 g3-g4 Bh5-g6 f3-f4 e5xf4 Be3xf4      

 16. Ra1-b1  

     Kasparov,G  :10.00  0.03  Ra1-b1 Ra8-d8 Rf1-e1 Kg8-h8 b4-b5 Qd7-b7        

     Rebel 8.0   :10.16  0.05  h2-h3 a7-a6 g3-g4 Bh5-g6 f3-f4       

 16.          Kg8-h8  

     DEEP BLUE   :10.00  0.00  Kg8-h8 g3-g4 Bh5-g6 f3-f4 e5xf4 Be3xf4          

     Rebel 8.0   :10.00  0.05  Ra8-d8 b4-b5 Kg8-h7 Rf1-e1 Qd7-c8 h2-h3       

 17. Rb1-b2  

     Kasparov,G  :10.00  0.03  Rb1-b2 Ra8-b8 g3-g4 Bh5-g6 f3-f4 e5xf4          

     Rebel 8.0   :10.00  0.15  g3-g4 Bh5-g6 f3-f4 e5xf4 Be3xf4 Ra8-d8       

 17.           a7-a6  

     DEEP BLUE   : 9.00  0.02  a7-a6 g3-g4 Bh5-g6 f3-f4 Ra8-b8 f4-f5           

     Rebel 8.0   : 9.07  0.05  Ra8-b8 g3-g4 Bh5-g6 f3-f4 e5xf4 Be3xf4       

 18.  b4xc5  

     Kasparov,G  :10.00  -0.02  b4xc5 b6xc5 Bg2-h3 Qd7-a7 Nf2-g4 Ra8-b8        

     Rebel 8.0   :10.00  0.05  g3-g4 Bh5-g6 f3-f4 Rf8-b8 f4-f5 Bg6-h7       

 18.           b6xc5  

     DEEP BLUE   :11.00  0.16  b6xc5 Bg2-h3 Qd7-a7 Nf2-g4 Ra8-b8 Rb2xb8        

     Rebel 8.0   :11.00  0.16  b6xc5 Bg2-h3 Qd7-a7 Nf2-g4 Ra8-b8 Rb2xb8       

 19. Bg2-h3  

     Kasparov,G  :11.00  -0.08  Bg2-h3 Qd7-a7 Nf2-g4 Ra8-b8 Rb2xb8 Rf8xb8      

     Rebel 8.0   :11.00  -0.08  Bg2-h3 Qd7-a7 Nf2-g4 Ra8-b8 Rb2xb8 Rf8xb8     

 19.          Qd7-c7  

     DEEP BLUE   :12.00  0.13  Qd7-c7 Nf2-g4 Qc7-a5 Be3xd4 c5xd4 Nc3-a4        

     Rebel 8.0   :12.03  0.14  Qd7-c7 Nf2-g4 Qc7-a5 Be3xd4 c5xd4 Nc3-a4       

 20. Bh3-g4  

     Kasparov,G  :12.00  -0.11  Bh3-g4 Bh5-g6 f3-f4 Ra8-b8 Rb2xb8 Rf8xb8       

     Rebel 8.0   :12.00  -0.09  Nf2-g4 Qc7-a5 Be3xd4 c5xd4 Nc3-b1 Ra8-b8      

 20.          Bh5-g6  

     DEEP BLUE   :12.00  0.11  Bh5-g6 Qd1-a4 Rf8-b8 Rb2xb8+ Qc7xb8 Rf1-b1      

     Rebel 8.0   :12.01  0.13  Qc7-a5 Nc3-d5 Bh5xg4 f3xg4 Qa5xa3 Rb2-b7       

 21.  f3-f4  

     Kasparov,G  :11.00  -0.16  f3-f4 Rf8-b8 Rb2xb8+ Ra8xb8 f4-f5 Bg6-h7       

     Rebel 8.0   :11.04  -0.04  Qd1-a4 Rf8-b8 Rb2xb8+ Qc7xb8 Rf1-b1 Qb8-a7    

 21.           e5xf4  

     DEEP BLUE   :11.00  0.23  e5xf4 Be3xf4 Ra8-b8 Rb2xb8 Rf8xb8 Nc3-e2        

     Rebel 8.0   :11.01  0.23  e5xf4 Be3xf4 Ra8-b8 Rb2xb8 Rf8xb8 Nc3-e2       

 22.  g3xf4  

     Kasparov,G  :11.00  -0.26  g3xf4 Qc7-a5 Be3xd4 c5xd4 Nc3-b1 Rf8-b8        

     Rebel 8.0   :11.00  -0.13  Be3xf4 Ra8-b8 Rb2xb8 Rf8xb8 Nc3-e2 Nf6xg4     

 22.          Qc7-a5  

     DEEP BLUE   :12.00  0.31  Qc7-a5 Rb2-b7 Qa5xc3 Rb7xe7 Qc3xa3 Be3xd4       

     Rebel 8.0   :12.00  0.31  Qc7-a5 Rb2-b7 Qa5xc3 Rb7xe7 Qc3xa3 Be3xd4      

 23. Be3-d2  

     Kasparov,G  :12.00  -0.18  Be3-d2 Qa5xa3 Rb2-b7 Nf6xg4 Qd1xg4 Ra8-e8      

     Rebel 8.0   :12.01  -0.25  Be3xd4 c5xd4 Nc3-d5 Nf6xd5 e4xd5 Qa5xa3       

 23.          Qa5xa3  

     DEEP BLUE   :11.00  0.22  Qa5xa3 Rb2-b7 Nf6xg4 Qd1xg4 Be7-d8 f4-f5        

     Rebel 8.0   :11.00  0.26  Qa5xa3 Rb2-b7 Nf6xg4 Qd1xg4 Ra8-e8 f4-f5       

 24. Rb2-a2  

     Kasparov,G  :12.00  -0.61  Rb2-a2 Qa3-b3 f4-f5 Qb3xd1 Bg4xd1 Bg6-h5       

     Rebel 8.0   :12.00  -0.40  Rb2-b7 Rf8-e8 f4-f5 Bg6-h7 Bg4-h5 Kh8-g8      

 24.          Qa3-b3  

     DEEP BLUE   :12.00  0.90  Qa3-b3 f4-f5 Qb3xd1 Bg4xd1 Bg6-h5 Bd2-e3        

     Rebel 8.0   :12.00  0.90  Qa3-b3 f4-f5 Qb3xd1 Bg4xd1 Bg6-h5 Bd2-e3       

 25.  f4-f5  

     Kasparov,G  :12.00  -0.52  f4-f5 Qb3xd1 Bg4xd1 Bg6-h5 Bd1xh5 Nf6xh5       

     Rebel 8.0   :12.00  -0.52  f4-f5 Qb3xd1 Bg4xd1 Bg6-h5 Bd1xh5 Nf6xh5      

 25.          Qb3xd1  

     DEEP BLUE   :12.00  0.97  Qb3xd1 Bg4xd1 Bg6-h7 Nf2-g4 Nd4-c6 Nc3-d5       

     Rebel 8.0   :12.00  0.97  Qb3xd1 Bg4xd1 Bg6-h7 Nf2-g4 Nd4-c6 Nc3-d5      

 26. Bg4xd1  

     Kasparov,G  :13.00  -0.66  Bg4xd1 Bg6-h7 Bd2-e3 Nd4-c6 Bd1-a4 Nc6-e5      

     Rebel 8.0   :13.00  -0.68  Bg4xd1 Bg6-h7 Bd2-e3 Nd4-c6 Bd1-a4 Nc6-e5     

 26.          Bg6-h7  

     DEEP BLUE   :12.00  0.63  Bg6-h7 Bd2-e3 Nd4-c6 Bd1-a4 Nc6-e5 Rf1-a1       

     Rebel 8.0   :12.00  0.63  Bg6-h7 Bd2-e3 Nd4-c6 Bd1-a4 Nc6-e5 Rf1-a1      

 27. Nf2-h3  

     Kasparov,G  :12.00  -0.69  Nf2-h3 Rf8-b8 Nh3-f4 Nd4-c6 Nc3-d5 Be7-d8      

     Rebel 8.0   :12.00  -0.50  Nf2-g4 Nd4-c6 Nc3-d5 Nf6xd5 c4xd5 Nc6-b4      

 27.          Rf8-b8  

     DEEP BLUE   :11.00  0.79  Rf8-b8 Nh3-f4 Be7-d8 Bd2-e3 Nd4-c6 h2-h3        

     Rebel 8.0   :11.00  0.80  Rf8-b8 Nh3-f4 Be7-d8 Nc3-d5 Nd4-c6 Ra2-a3      

 28. Nh3-f4  

     Kasparov,G  :12.00  -0.64  Nh3-f4 Nd4-c6 Bd1-a4 Nc6-e5 Rf1-a1 Ne5-f3+     

     Rebel 8.0   :12.00  -0.64  Nh3-f4 Nd4-c6 Bd1-a4 Nc6-e5 Rf1-a1 Ne5-f3+    

 28.          Be7-d8  

     DEEP BLUE   :11.00  0.67  Be7-d8 Nf4-d5 Nd4-c6 Bd2-f4 Nc6-b4 Ra2-a3       

     Rebel 8.0   :11.00  0.72  Nd4-c6 Bd1-a4 Nc6-e5 Rf1-a1 Ne5-f3+ Kg1-g2     

 29. Nf4-d5  

     Kasparov,G  :12.00  -0.59  Nf4-d5 Nd4-c6 Bd2-f4 Nc6-b4 Ra2-e2 Nb4xd3      

     Rebel 8.0   :12.00  -0.59  Nf4-d5 Nd4-c6 Bd2-f4 Nc6-b4 Ra2-e2 Nb4xd3     

 29.          Nd4-c6  

     DEEP BLUE   :12.00  0.66  Nd4-c6 Bd2-f4 Nc6-e5 Nd5xf6 Bd8xf6 Nc3-d5       

     Rebel 8.0   :12.00  0.66  Nd4-c6 Bd2-f4 Nc6-e5 Nd5xf6 Bd8xf6 Nc3-d5      

 30. Bd2-f4  

     Kasparov,G  :11.00  -0.58  Bd2-f4 Nc6-e5 Nd5xf6 Bd8xf6 Nc3-d5             

     Rebel 8.0   :11.01  -0.63  Ra2-a3 Kh8-g8 Bd2-f4 Nc6-e5 Nd5xf6+ Bd8xf6    

 30.          Nc6-e5  

     DEEP BLUE   :12.00  0.64  Nc6-e5 Bd1-c2 Nf6xd5 Nc3xd5 Ra8-a7 Kg1-g2       

     Rebel 8.0   :12.00  0.64  Nc6-e5 Bd1-c2 Nf6xd5 Nc3xd5 Ra8-a7 Kg1-g2      

 31. Bd1-a4  

     Kasparov,G  :12.00  -0.54  Bd1-a4 Nf6xd5 e4xd5 Rb8-b6 Bf4xe5 d6xe5        

     Rebel 8.0   :12.01  -0.51  Nd5xf6 Bd8xf6 Nc3-d5 Bf6-d8 Bd1-a4 Ra8-a7     

 31.          Nf6xd5  

     DEEP BLUE   :12.00  0.61  Nf6xd5 e4xd5 Rb8-b6 Bf4xe5 d6xe5 Ba4-c6         

     Rebel 8.0   :12.02  0.61  Nf6xd5 e4xd5 Rb8-b6 Bf4xe5 d6xe5 Ba4-c6       

 32. Nc3xd5  

     Kasparov,G  :11.00  -0.56  Nc3xd5 a6-a5 Ba4-b5 f7-f6 Rf1-b1 Bh7-g8        

     Rebel 8.0   :11.00  -0.54  e4xd5 Rb8-b6 Bf4xe5 d6xe5 Ba4-c6 Ra8-b8       

 32.           a6-a5  

     DEEP BLUE   :11.00  0.63  a6-a5 Kg1-g2 Ra8-a7 Ba4-b5 Kh8-g8 Rf1-a1        

     Rebel 8.0   :11.00  0.64  a6-a5 Ba4-b5 f7-f6 Rf1-b1 Bh7-g8 Kg1-g2       

 33. Ba4-b5  

     Kasparov,G  :11.00  -0.57  Ba4-b5 f7-f6 Kg1-g2 Bh7-g8 Rf1-b1 Kh8-h7       

     Rebel 8.0   :11.00  -0.56  Ra2-g2 Ra8-a7 Rg2-g3 f7-f6 Bf4-d2 Bh7-g8      

 33.          Ra8-a7  

     DEEP BLUE   :12.00  0.58  Ra8-a7 Ra2-a3 f7-f6 Ra3-b3 Bh7-g8 Rf1-b1        

     Rebel 8.0   :12.00  0.70  f7-f6 Rf1-b1 Bh7-g8 Ra2-b2 Bg8xd5 c4xd5      

 34. Kg1-g2  

     Kasparov,G  :11.00  -0.53  Kg1-g2 f7-f6 Ra2-a3 Bh7-g8                     

     Rebel 8.0   :11.00  -0.50  Ra2-a3 f7-f6 Rf1-b1 Bh7-g8 Ra3-b3 Bg8xd5      

 34.           g7-g5  

     DEEP BLUE   :12.00  0.41  g7-g5 Bf4-g3 Kh8-g7 Rf1-a1 Ra7-a8 Ra2-a3        

     Rebel 8.0   :12.00  0.66  f7-f6 Ra2-a3 Bh7-g8 Rf1-b1 Bg8xd5 c4xd5       

 35. Bf4xe5+ 

     Kasparov,G  :11.00  -0.45  Bf4xe5+ d6xe5 Rf1-b1 Kh8-g7 Ra2-b2 Ra7-b7      

     Rebel 8.0   :11.00  -0.35  Bf4-g3 Bh7-g8 d3-d4 c5xd4 Bg3-f2 Ra7-b7       

 35.           d6xe5  

     DEEP BLUE   :12.00  0.52  d6xe5 Rf1-b1 Ra7-b7 Ra2-d2 Kh8-g7 Rd2-b2        

     Rebel 8.0   :12.00  0.51  d6xe5 Kg2-f3 Bh7-g8 Rf1-b1 Ra7-b7 Ra2-a3       

 36.  f5-f6  

     Kasparov,G  :12.00  -0.54  f5-f6 Bh7-g6 h2-h4 g5xh4 Rf1-g1 Bd8-b6         

     Rebel 8.0   :12.12  -0.44  Rf1-f3 f7-f6 Bb5-c6 Kh8-g7 Rf3-f2 Rb8-b3      

 36.          Bh7-g6  

     DEEP BLUE   :12.00  0.57  Bh7-g6 h2-h4 g5xh4 Kg2-h3 Ra7-b7 Kh3xh4         

     Rebel 8.0   :12.00  0.55  Bh7-g6 h2-h4 g5xh4 Kg2-h3 Rb8-b7 Rf1-g1       

 37.  h2-h4  

     Kasparov,G  :12.00  -0.45  h2-h4 g5xh4 Kg2-h3 Kh8-h7 Kh3xh4 Rb8-b7        

     Rebel 8.0   :12.00  -0.51  h2-h4 g5xh4 Rf1-g1 Rb8-b7 Kg2-h3 Kh8-g8       

 37.           g5xh4  

     DEEP BLUE   :13.00  0.49  g5xh4 Kg2-h3 Kh8-h7 Kh3xh4 Kh7-g8 Rf1-g1        

     Rebel 8.0   :13.00  0.55  g5xh4 Kg2-h3 Rb8-b7 Kh3xh4 Kh8-g8 Rf1-g1       

 38. Kg2-h3  

     Kasparov,G  :13.00  -0.43  Kg2-h3 Kh8-h7 Kh3xh4 Rb8-b7 Rf1-e1 Kh7-g8      

     Rebel 8.0   :13.00  -0.41  Kg2-h3 Kh8-g8 Kh3xh4 Rb8-b7 Rf1-g1 Kg8-h7     

 38.          Kh8-g8  

     DEEP BLUE   :13.00  0.49  Kh8-g8 Rf1-g1 Kg8-h7 Kh3xh4 Rb8-b7 Rg1-g2       

     Rebel 8.0   :13.00  0.45  Kh8-g8 Rf1-h1 Rb8-b7 Kh3xh4 Kg8-h8 Rh1-a1      

 39. Kh3xh4  

     Kasparov,G  :12.00  -0.41  Kh3xh4 Rb8-b7 Rf1-g1 Kg8-h7 Rg1-g4 Rb7-b8      

     Rebel 8.0   :12.00  -0.41  Rf1-g1 Kg8-h7 Kh3xh4 Kh7-g8 Kh4-h3 Kg8-f8     

 39.          Kg8-h7  

     DEEP BLUE   :12.00  0.39  Kg8-h7 Ra2-g2 Rb8-c8 Rg2-b2 Ra7-b7 Rb2-g2       

     Rebel 8.0   :12.00  0.48  Ra7-b7 Ra2-a1 Kg8-h7 Rf1-g1 Rb7-a7 Ra1-a3      

 40. Kh4-g4  

     Kasparov,G  :13.00  -0.26  Kh4-g4 Kh7-h8 Kg4-f3 Rb8-a8 Rf1-b1 Ra8-c8      

     Rebel 8.0   :13.00  -0.35  Kh4-h3 Rb8-c8 Rf1-b1 Ra7-b7 Rb1-f1 Rc8-b8     

 40.          Bd8-c7  

     DEEP BLUE   :12.00  -0.02  Bd8-c7 Nd5xc7 Ra7xc7 Ra2xa5 Rb8-d8 Rf1-f3      

     Rebel 8.0   :12.04  0.30  Ra7-b7 Ra2-g2 Bd8-c7 Nd5-e7 Rb8-f8 Kg4-h4      

 41. Nd5xc7  

     Kasparov,G  :13.00  0.14  Nd5xc7 Ra7xc7 Ra2xa5 Rc7-c8 Ra5-a7 Rc8-g8       

     Rebel 8.0   :13.00  0.14  Nd5xc7 Ra7xc7 Ra2xa5 Rc7-c8 Ra5-a7 Rc8-g8      

 41.          Ra7xc7  

     DEEP BLUE   :13.00  -0.02  Ra7xc7 Ra2xa5 Rc7-c8 Ra5-a7 Rc8-d8 Rf1-f3      

     Rebel 8.0   :13.00  -0.04  Ra7xc7 Ra2xa5 Rb8-d8 Rf1-f3 Rc7-c8 Ra5-a7     

 42. Ra2xa5  

     Kasparov,G  :13.00  0.11  Ra2xa5 Rb8-d8 Rf1-f3 Rc7-c8 Ra5-a6 Rc8-a8       

     Rebel 8.0   :13.00  0.13  Ra2xa5 Rb8-d8 Rf1-f3 Rc7-c8 Ra5-a6 h6-h5+      

 42.          Rb8-d8  

     DEEP BLUE   :13.00  -0.05  Rb8-d8 Rf1-f3 Rd8-g8 Kg4-h4 h6-h5 Rf3-g3       

     Rebel 8.0   :13.02  -0.02  h6-h5+ Kg4-g5 Rb8-g8 Kg5-h4 Kh7-h6 Ra5-a6     

 43. Rf1-f3  

     Kasparov,G  :13.00  0.13  Rf1-f3 h6-h5+ Kg4-h4 Kh7-h6 Ra5-a4 Rc7-b7       

     Rebel 8.0   :13.00  0.13  Rf1-f3 Rd8-g8 Kg4-h4 Rg8-d8 Ra5-a6       

 43.          Kh7-h8  

     DEEP BLUE   :13.00  -0.08  Kh7-h8 Ra5-a6 Kh8-h7 Kg4-h4 h6-h5 Ra6-a1       

     Rebel 8.0   :13.05  -0.02  h6-h5+ Kg4-h4 Kh7-h6 Ra5-a6 Bg6-h7 Kh4-h3     

 44. Kg4-h4  

     Kasparov,G  :13.00  0.14  Kg4-h4 Kh8-g8 Rf3-g3 Kg8-h7 Ra5-a6 Rc7-c8       

     Rebel 8.0   :13.01  0.23  Ra5-a6 Kh8-h7 Kg4-h4 h6-h5 Ra6-a1 Rd8-g8       

 44.          Kh8-g8  

     DEEP BLUE   :13.00  -0.08  Kh8-g8 Ra5-a3 Kg8-h7 Ra3-a6 h6-h5 Ra6-a1       

     Rebel 8.0   :13.04  -0.07  Kh8-g8 Ra5-a1 Kg8-h7 Ra1-a6 h6-h5 Ra6-a2      

 45. Ra5-a3  

     Kasparov,G  :13.00  0.14  Ra5-a3 Kg8-h8 Rf3-g3 Kh8-h7 Ra3-a6 Rc7-c8       

     Rebel 8.0   :13.05  0.24  Ra5-a2 Kg8-h7 Ra2-a6 h6-h5 Ra6-a1 Rd8-b8       

 45.          Kg8-h8  

     DEEP BLUE   :13.00  -0.08  Kg8-h8 Ra3-a1 Kh8-h7 Ra1-a6 h6-h5 Ra6-a1       

     Rebel 8.0   :13.00  -0.07  Kg8-h8 Ra3-a1 Kh8-h7 Ra1-a2 Rc7-b7 Ra2-a6     

 46. Ra3-a6  

     Kasparov,G  :13.00  0.17  Ra3-a6 Kh8-h7 Ra6-a1 Rd8-g8 Rf3-h3 Rc7-c8       

     Rebel 8.0   :13.01  0.18  Ra3-a6 Kh8-h7 Ra6-a1 Rd8-c8 Ra1-a4 Rc8-d8      

 46.          Kh8-h7  

     DEEP BLUE   :13.00  -0.03  Kh8-h7 Rf3-h3 Rc7-c8 Ra6-a7 Rd8-d6 Ra7-e7      

     Rebel 8.0   :13.00  -0.03  Kh8-h7 Rf3-h3 Rc7-c8 Ra6-a7 Rd8-d6 Ra7-e7     

 47. Ra6-a3  

     Kasparov,G  :13.00  0.00  Ra6-a3                                          

     Rebel 8.0   :13.02  0.20  Ra6-a1 Rc7-b7 Ra1-a5 Rb7-c7 Ra5-a6 h6-h5       

 47.          Kh7-h8  

 48. Ra3-a6  





Chess program : Ed Schröder                      Processor: Pentium PRO

Opening book  : Jeroen Noomen                        Speed: 200 Mhz

User interface: Robert Kemper              Hash table size: 13 Mb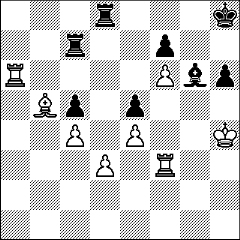 GM Ron Henley - Garry offered the draw, which was quickly accepted by the Deep Blue team.Kasparov used a clever move order in the opening to get Deep Blue to misplace its pieces, and proceeded to build up an advantage on the kingside. However, Garry failed to follow through in that sector of the board and changed his field of operation to the queenside and opened the b-file. This unfortunate decision succeeded only in allowing: a) Black to capture the a3-pawn and; b) exchange queens. After this Garry had to prove he had compensation for the pawn. Deep Blue played passively to hold the extra pawn, and Garry obtained good outposts for his pieces with a slight pressure until Deep Blue played 40...Bc7! (with the idea Bc7-d6-f8) when Garry had to liquidate and give up his good Nd5.



For the best analysis on the Internet check the following links

Analysis of the six games by GM Ron Henley
Analysis by GM Yasser Seirawan



View the REBEL analyis

The Rebel Home Page has been visited
times.
Since November 23, 1995