---

REBEL8 analysis game 4

---
The analysis is done at level 10:00 per move with Analyse Game (for both sides). After that the game is written to a text file with the Game to Textfile option.

View Rebel8 game overview





 White :  Deep Blue

 Black :  Garry Kasparov

 Score :  ½-½

 Event :  Man Vs. Machine, the rematch

 Game  :  4

 Date  :  May 7, 1997

 Level :  Average time 10:00



For those who are not familiar with Rebel ...

- DEEP BLUE means the move played by DEEP BLUE through the eyes of Rebel.

- Kasparov, G means the move played by Kasparov through the eyes of Rebel.

- Rebel 8.0 means what Rebel 8.0 would have played here instead.

- If Rebel notices a remarkable score difference it is marked with 2 x "!!"





  1.  e2-e4    c7-c6  

  2.  d2-d4    d7-d6  

  3. Ng1-f3   Ng8-f6  

  4. Nb1-c3   Bc8-g4  

  5.  h2-h3   Bg4-h5  

  6. Bf1-d3    e7-e6  

  7. Qd1-e2    d6-d5  

  8. Bc1-g5   Bf8-e7  

  9.  e4-e5  

     DEEP BLUE   :11.00  0.19  e4-e5 Nf6-d7 Bg5xe7 Qd8xe7 Ra1-b1 O-O           

     Rebel 8.0   :11.08  0.20  Bg5-f4 O-O O-O-O a7-a5 e4-e5 Nf6-d7       

  9.          Nf6-d7  

     Kasparov,G  :12.00  -0.03  Nf6-d7 Bg5xe7 Qd8xe7 O-O O-O Ra1-e1            

     Rebel 8.0   :12.00  -0.02  Nf6-d7 Bg5xe7 Qd8xe7 Ra1-b1 O-O b2-b4      

 10. Bg5xe7  

     DEEP BLUE   :11.00  0.09  Bg5xe7 Qd8xe7 Ra1-b1 O-O b2-b4 f7-f6            

     Rebel 8.0   :11.00  0.09  Bg5xe7 Qd8xe7 Ra1-b1 O-O b2-b4 f7-f6      

 10.          Qd8xe7  

     Kasparov,G  :11.00  -0.03  Qd8xe7 Qe2-e3 Bh5xf3 Qe3xf3 c6-c5 Nc3-b5       

     Rebel 8.0   :11.00  -0.03  Qd8xe7 Qe2-e3 Bh5xf3 Qe3xf3 c6-c5 Nc3-b5    

 11.  g2-g4  

     DEEP BLUE   :11.00  -0.06  g2-g4 Bh5-g6 O-O O-O Rf1-c1 Bg6xd3             

     Rebel 8.0   :11.00  0.05  O-O O-O Ra1-e1 Qe7-b4 g2-g4 Bh5-g6       

 11.          Bh5-g6  

     Kasparov,G  :12.00  0.23  Bh5-g6 O-O-O O-O Nc3-a4 b7-b5 Na4-c3            

     Rebel 8.0   :12.00  0.26  Bh5-g6 O-O-O O-O h3-h4 c6-c5 d4xc5       

 12. Bd3xg6  

     DEEP BLUE   :11.00  -0.19  Bd3xg6 f7xg6 O-O-O O-O Qe2-e3 a7-a6            

     Rebel 8.0   :11.00  -0.16  O-O-O O-O Nc3-a4 b7-b5 Na4-c3 b5-b4       

 12.           h7xg6  

     Kasparov,G  :12.00  0.27  h7xg6 O-O-O a7-a6 Qe2-e3 b7-b5 Nc3-e2           

     Rebel 8.0   :12.00  0.26  f7xg6 O-O-O O-O Qe2-e3 a7-a6 Nf3-g5      

 13.  h3-h4  

     DEEP BLUE   :12.00  -0.17  h3-h4 a7-a6 O-O-O c6-c5 d4xc5 Nd7xc5           

     Rebel 8.0   :12.00  0.06  O-O-O a7-a6 Qe2-e3 b7-b5 a2-a3 Ra8-a7       

 13.          Nb8-a6  

     Kasparov,G  :12.00  -0.17  Nb8-a6 O-O-O O-O-O h4-h5 Rd8-f8 Rd1-g1         

     Rebel 8.0   :12.00  0.23  a7-a6 O-O-O c6-c5 d4xc5 Nd7xc5 h4-h5      

 14.  O-O-O  

     DEEP BLUE   :12.00  0.25  O-O-O O-O-O h4-h5 Rd8-f8 Rd1-g1 Na6-c7          

     Rebel 8.0   :12.00  0.25  O-O-O O-O-O h4-h5 Rd8-f8 Rd1-g1 Na6-c7      

 14.           O-O-O  

     Kasparov,G  :12.00  -0.52  O-O-O h4-h5 g6xh5 g4xh5 Rh8-h7 Rd1-g1          

     Rebel 8.0   :12.01  -0.52  O-O-O h4-h5 g6xh5 g4xh5 Rh8-h7 Rd1-g1       

 15. Rd1-g1  

     DEEP BLUE   :11.00  0.23  Rd1-g1 Rh8-h6 g4-g5 Rh6-h7 Nf3-d2 Rd8-h8        

     Rebel 8.0   :11.00  0.31  Nf3-g5 Rh8-h6 f2-f4 Rd8-h8 Ng5-f3 Nd7-b6       

 15.          Na6-c7  

     Kasparov,G  :11.00  -0.14  Na6-c7 Qe2-e3 Nd7-b6 Qe3-g5 Qe7-f8 Kc1-b1      

     Rebel 8.0   :11.00  -0.11  Rh8-h6 Nc3-d1 Rd8-h8 Nd1-e3 c6-c5 g4-g5       

 16. Kc1-b1  

     DEEP BLUE   :10.00  0.19  Kc1-b1 f7-f6 e5xf6 g7xf6 h4-h5 g6xh5            

     Rebel 8.0   :10.00  0.21  Qe2-e3 Nd7-b6 Qe3-g5 Qe7-f8 Kc1-b1 Nb6-c4      

 16.           f7-f6  

     Kasparov,G  :11.00  -0.13  f7-f6 e5xf6 g7xf6 h4-h5 g6xh5 g4xh5            

     Rebel 8.0   :11.00  -0.13  f7-f6 e5xf6 g7xf6 h4-h5 g6xh5 g4xh5       

 17.  e5xf6  

     DEEP BLUE   :11.00  0.16  e5xf6 g7xf6 h4-h5 g6xh5 g4xh5 e6-e5             

     Rebel 8.0   :11.05  0.21  Qe2-e3 f6xe5 d4xe5 Rd8-f8 Nf3-g5 Qe7-c5       

 17.          Qe7xf6  

     Kasparov,G  :10.00  -0.40  Qe7xf6 Rg1-g3 Rd8-f8 Rh1-e1 Nd7-b6 b2-b3       

     Rebel 8.0   :10.00  -0.06  g7xf6 g4-g5 Rd8-f8 Rg1-g3 f6xg5       

 18. Rg1-g3  

     DEEP BLUE   :11.00  0.34  Rg1-g3 g6-g5 Nf3xg5 e6-e5 Rg3-f3 Qf6xg5         

     Rebel 8.0   :11.17  0.46  Rh1-h3 Rd8-f8       

 18.          Rd8-e8  

     Kasparov,G  :12.00  -0.32  Rd8-e8 Rh1-e1 Qf6-f4 a2-a3 Rh8-f8 Kb1-a1       

     Rebel 8.0   :12.00  -0.23  g6-g5 h4-h5 Rd8-e8 Qe2-e3 e6-e5 d4xe5       

 19. Rh1-e1  

     DEEP BLUE   :11.00  0.42  Rh1-e1 Qf6-f4 a2-a3 Rh8-f8 Kb1-a1 Nd7-f6        

     Rebel 8.0   :11.00  0.42  Rh1-e1 Qf6-f4 a2-a3 Rh8-f8 Kb1-a1 Nd7-f6      

 19.          Rh8-f8  

     Kasparov,G  :11.00  -0.38  Rh8-f8 Nc3-d1 Nc7-b5 Qe2-d3 a7-a6 c2-c3        

     Rebel 8.0   :11.00  -0.35  Qf6-f4 a2-a3 Rh8-f8 Nc3-d1 Nd7-f6 Nf3-e5      

 20. Nc3-d1  

     DEEP BLUE   :11.00  0.41  Nc3-d1 Nc7-b5 Qe2-d3 e6-e5 d4xe5 Nd7xe5         

     Rebel 8.0   :11.07  0.43  a2-a3 Nd7-b6 Nc3-d1 Nb6-c4 c2-c3 Qf6-e7       

 20.           e6-e5  

     Kasparov,G  :11.00  -0.65  e6-e5 d4xe5 Qf6-f4 b2-b3 Kc8-b8 Qe2-e3         

     Rebel 8.0   :11.00  -0.33  Nc7-b5 Qe2-d3 e6-e5 d4xe5 Nd7xe5 Re1xe5       

 21.  d4xe5  

     DEEP BLUE   :12.00  0.64  d4xe5 Qf6-f4 b2-b3 Kc8-b8 Qe2-e3 Qf4xe3         

     Rebel 8.0   :12.00  0.64  d4xe5 Qf6-f4 b2-b3 Rf8-f7 Nd1-b2 Nc7-b5       

 21.          Qf6-f4  

     Kasparov,G  :12.00  -0.45  Qf6-f4 Qe2-e3 Qf4xe3 Re1xe3 Rf8-f4 a2-a3       

     Rebel 8.0   :12.00  -0.45  Qf6-f4 Qe2-e3 Qf4xe3 Re1xe3 Rf8-f4 a2-a3      

 22.  a2-a3  

     DEEP BLUE   :11.00  0.34  a2-a3 Rf8-f7 Kb1-a2 Rf7-e7 Qe2-d3 Nd7xe5        

     Rebel 8.0   :11.00  0.59  b2-b3 Kc8-b8 Qe2-e3 Qf4xe3 Re1xe3 Rf8-f4      

 22.          Nc7-e6  

     Kasparov,G  :12.00  -0.57  Nc7-e6 Nd1-c3 Ne6-c7 Qe2-e3 Qf4xe3 Re1xe3      

     Rebel 8.0   :12.00  -0.21  Rf8-f7 Qe2-d3 Nd7xe5 Nf3xe5 Re8xe5 Re1xe5     

 23. Nd1-c3  

     DEEP BLUE   :11.00  0.65  Nd1-c3 Ne6-c7 Qe2-e3 Qf4xe3 Re1xe3 Re8-e7       

     Rebel 8.0   :11.00  0.65  Nd1-c3 Ne6-c7 Qe2-e3 Qf4xe3 Re1xe3 Re8-e7      

 23.          Nd7-c5  

     Kasparov,G  :11.00  -0.71  Nd7-c5 b2-b4 Nc5-d7 b4-b5 Ne6-c5 b5xc6         

     Rebel 8.0   :11.00  -0.47  Ne6-c7 Qe2-e3 Qf4xe3 Re1xe3 Re8-e7 Nc3-e2     

 24.  b2-b4  

     DEEP BLUE   :12.00  0.75  b2-b4 Nc5-d7 Qe2-d3 Qf4-h6 Nc3-a4 Rf8-f4        

     Rebel 8.0   :12.00  0.76  b2-b4 Nc5-a6 b4-b5 Na6-c5 b5xc6 b7xc6       

 24.          Nc5-d7  

     Kasparov,G  :11.00  -0.64  Nc5-d7 Qe2-d3 Qf4-f7 Nc3-a4 Kc8-b8 Na4-b2      

     Rebel 8.0   :11.02  -0.65  Nc5-a6 Kb1-a1 Ne6-d4 Nf3xd4 Qf4xd4 Rg3-e3     

 25. Qe2-d3  

     DEEP BLUE   :11.00  0.72  Qe2-d3 Nd7-b6 Qd3xg6 Nb6-c4 Kb1-a2 Nc4-d2       

     Rebel 8.0   :11.00  0.73  Qe2-d3 Qf4-f7 Nc3-a4 Kc8-b8 Na4-b2 Ne6-f4      

 25.          Qf4-f7  

     Kasparov,G  :11.00  -0.68  Qf4-f7 Nc3-d1 Kc8-b8 Nd1-b2 Nd7-b6 Qd3-e3      

     Rebel 8.0   :11.06  -0.66  Nd7-b6 Qd3xg6 Nb6-c4 Kb1-a2 Nc4-d2 Nf3xd2     

 26.  b4-b5  

     DEEP BLUE   :11.00  0.67  b4-b5 Ne6-f4 Qd3-d2 Nd7-b6 Qd2-d4 Nf4-e6        

     Rebel 8.0   :11.00  0.74  Nc3-d1 Kc8-b8 Nd1-b2 Nd7-b6 Qd3-d2 Kb8-a8      

 26.          Nd7-c5  

     Kasparov,G  :11.00  -0.63  Nd7-c5 Qd3-e2 Re8-e7 Qe2-e3 a7-a6 b5xc6        

     Rebel 8.0   :11.09  -0.55  Nd7-b6 b5xc6 b7xc6 Kb1-a1 Ne6-c5 Qd3-d4       

 27. Qd3-e3  

     DEEP BLUE   :11.00  0.64  Qd3-e3 Re8-d8 Re1-d1 Nc5-e4 Nc3xe4 d5xe4        

     Rebel 8.0   :11.01  0.64  Qd3-e3 Re8-d8 Re1-d1 Nc5-e4 Nc3xe4 d5xe4       

 27.          Qf7-f4  

     Kasparov,G  :11.00  -0.35  Qf7-f4 b5xc6 b7xc6 Qe3-e2 Re8-e7 Kb1-a2        

     Rebel 8.0   :11.07  -0.44  Qf7-f4 Qe3-e2 d5-d4 Nc3-a2 c6xb5 Na2-b4      

 28.  b5xc6  

     DEEP BLUE   :11.00  0.41  b5xc6 b7xc6 Qe3xf4 Rf8xf4 Nc3-e2 Rf4-a4         

     Rebel 8.0   :11.00  0.41  b5xc6 b7xc6 Qe3xf4 Rf8xf4 Nc3-e2 Rf4-a4       

 28.           b7xc6  

     Kasparov,G  :11.00  -0.27  b7xc6 Kb1-a1 Re8-d8 Re1-d1 Nc5-e4 Nc3xe4       

     Rebel 8.0   :11.00  -0.27  b7xc6 Kb1-a1 Re8-d8 Re1-d1 Nc5-e4 Nc3xe4      

 29. Re1-d1  

     DEEP BLUE   :11.00  0.29  Re1-d1 Qf4xe3 f2xe3 Rf8-f7 Kb1-c1 Re8-f8        

     Rebel 8.0   :11.00  0.30  Re1-d1 Qf4xe3 f2xe3 Re8-e7 Kb1-a1 Ne6-d8       

 29.          Kc8-c7  

     Kasparov,G  :12.00  -0.30  Kc8-c7 Kb1-a1 Qf4xe3 f2xe3 Re8-e7 Rd1-f1       

     Rebel 8.0   :12.00  -0.24  Re8-e7 Kb1-a1 Qf4xe3 f2xe3 Ne6-d8 Rd1-b1      

 30. Kb1-a1  

     DEEP BLUE   :11.00  0.22  Kb1-a1 Qf4xe3 f2xe3 Ne6-d8 Rd1-e1 Nc5-e4        

     Rebel 8.0   :11.00  0.22  Kb1-a1 Qf4xe3 f2xe3 Ne6-d8 Rd1-e1 Nc5-e4       

 30.          Qf4xe3  

     Kasparov,G  :12.00  -0.17  Qf4xe3 f2xe3 Ne6-d8 Rd1-d4 Re8-e7 Ka1-a2       

     Rebel 8.0   :12.00  -0.17  Qf4xe3 f2xe3 Ne6-d8 Rd1-d4 Re8-e7 Ka1-a2      

 31.  f2xe3  

     DEEP BLUE   :12.00  0.19  f2xe3 Ne6-d8 Rd1-e1 Nc5-e4 Nc3xe4 d5xe4         

     Rebel 8.0   :12.00  0.19  f2xe3 Ne6-d8 Rd1-e1 Nc5-e4 Nc3xe4 d5xe4       

 31.          Rf8-f7  

     Kasparov,G  :12.00  -0.02  Rf8-f7 Rd1-b1 Re8-f8 Nf3-d4 Rf7-f2 Nc3-e2      

     Rebel 8.0   :12.00  0.01  Re8-e7 Rd1-f1 Ne6-d8 Ka1-a2 Nc5-d7 Nc3-e2      

 32. Rg3-h3  

     DEEP BLUE   :12.00  0.13  Rg3-h3 Re8-f8 Nf3-d4 Rf7-f2 Nc3-e2 Ne6xd4       

     Rebel 8.0   :12.00  0.12  Rd1-b1 Ne6-d8 h4-h5 g6xh5 g4xh5 Nc5-d7       

 32.          Re8-f8  

     Kasparov,G  :12.00  0.02  Re8-f8 Nf3-d4 Rf7-f2 Nc3-e2 Ne6xd4 Ne2xd4       

     Rebel 8.0   :12.00  0.02  Re8-f8 Nf3-d4 Rf7-f2 Nc3-e2 Ne6xd4 Ne2xd4      

 33. Nf3-d4  

     DEEP BLUE   :12.00  0.13  Nf3-d4 Rf7-f2 Nc3-a2 a7-a5 Na2-c1 Kc7-d7        

     Rebel 8.0   :12.00  0.13  Nf3-d4 Rf7-f2 Nc3-a2 a7-a5 Na2-c1 Kc7-d7       

 33.          Rf7-f2  

     Kasparov,G  :11.00  -0.05  Rf7-f2 Nc3-a2 a7-a5 Na2-c1 Kc7-d7 Rh3-h1       

     Rebel 8.0   :11.00  -0.05  Rf7-f2 Nc3-a2 a7-a5 Na2-c1 Kc7-d7 Rh3-h1      

 34. Rd1-b1  

     DEEP BLUE   :11.00  -0.10  Rd1-b1 Rf2-d2 Nc3-a2 Ne6xd4 e3xd4 Rd2xd4       

     Rebel 8.0   :11.00  0.14  Nc3-a2 a7-a5 Na2-c1 Kc7-d7 Nc1-d3 Nc5xd3      

 34.          Rf2-g2  

     Kasparov,G  :12.00  0.18  Rf2-g2 g4-g5 Rg2-d2 Nc3-a2 Ne6xd4 e3xd4         

     Rebel 8.0   :12.00  0.23  Rf2-d2 Nc3-e2 Rf8-f2 Rb1-e1 Ne6xd4 e3xd4       

 35. Nc3-e2  

     DEEP BLUE   :11.00  -0.26  Nc3-e2 Rg2xg4 Rh3-g3 Rg4xg3 Ne2xg3 Rf8-f2      

     Rebel 8.0   :11.00  -0.10  g4-g5 Rg2-d2 Nc3-a2 Ne6xd4 e3xd4 Rd2xd4       

 35.          Rg2xg4  

     Kasparov,G  :12.00  0.37  Rg2xg4 Nd4xe6+ Nc5xe6 Ne2-d4 Ne6-d8 Rh3-h1      

     Rebel 8.0   :12.00  0.37  Rg2xg4 Nd4xe6+ Nc5xe6 Ne2-d4 Ne6-d8 Rh3-h1     

 36. Nd4xe6+ 

     DEEP BLUE   :12.00  -0.34  Nd4xe6+ Nc5xe6 Ne2-d4 Rf8-e8 Rh3-f3 Ne6-d8     

     Rebel 8.0   :12.02  -0.31  Rh3-g3 Rg4xg3 Ne2xg3 Rf8-h8 Nd4xe6+ Nc5xe6    

 36.          Nc5xe6  

     Kasparov,G  :13.00  0.45  Nc5xe6 Ne2-d4 Rf8-e8 Rh3-f3 Ne6-d8 Rf3-f4       

     Rebel 8.0   :13.00  0.45  Nc5xe6 Ne2-d4 Rf8-e8 Rh3-f3 Ne6-d8 Rf3-f4      

 37. Ne2-d4  

     DEEP BLUE   :12.00  -0.13  Ne2-d4 Rf8-e8 Rb1-b4 Ne6xd4 e3xd4 a7-a5        

     Rebel 8.0   :12.00  -0.13  Ne2-d4 Rf8-e8 Rb1-b4 Ne6xd4 e3xd4 a7-a5       

 37.          Ne6xd4  

     Kasparov,G  :12.00  0.01  Ne6xd4 e3xd4 Rg4xd4 Rb1-g1 Rd4-e4 Rg1xg6        

     Rebel 8.0   :12.00  0.24  Rf8-e8 Rh3-f3 Ne6-d8 Rf3-f4 Rg4-g2 Nd4-f3      

 38.  e3xd4  

     DEEP BLUE   :13.00  -0.45  e3xd4 Rg4xd4 Rb1-g1 Rf8-f4 Rg1xg6 Rf4-g4       

     Rebel 8.0   :13.00  -0.44  e3xd4 Rg4xd4 Rb1-g1 Rf8-f4 Rg1xg6 Rf4-g4      

 38.          Rg4xd4  

     Kasparov,G  :12.00  0.11  Rg4xd4 Rb1-g1 Rf8-f7 Rg1xg6 Rd4-e4 Ka1-b2       

     Rebel 8.0   :12.00  0.11  Rg4xd4 Rb1-g1 Rf8-f7 Rg1xg6 Rd4-e4 Ka1-b2      

 39. Rb1-g1  

     DEEP BLUE   :13.00  0.08  Rb1-g1 Rd4-e4 Rg1xg6 Rf8-f7 Rh3-g3 Re4xe5       

     Rebel 8.0   :13.00  0.08  Rb1-g1 Rd4-e4 Rg1xg6 Rf8-f7 Rh3-g3 Re4xe5      

 39.          Rd4-c4  

     Kasparov,G  :13.00  0.03  Rd4-c4 Ka1-b2 Rf8-f2 Rh3-c3 Rc4xc3 Kb2xc3       

     Rebel 8.0   :13.00  0.05  Rd4-e4 Rg1xg6 Rf8-f7 Rh3-c3 Re4xe5 Rg6xc6+     

 40. Rg1xg6  

     DEEP BLUE   :13.00  -0.48  Rg1xg6 Rc4xc2 Rg6xg7+ Kc7-b6 Rg7-g1 Rc2-e2     

     Rebel 8.0 !!:13.00  0.07  Ka1-b2 Rf8-e8 Rg1xg6 Re8xe5 Rg6xg7+ Kc7-b6     

 40.          Rc4xc2  

     Kasparov,G  :13.00  0.61  Rc4xc2 Rg6xg7+ Kc7-b6 Rg7-g1 Rc2-e2 Rh3-b3+     

     Rebel 8.0   :13.00  0.61  Rc4xc2 Rg6xg7+ Kc7-b6 Rg7-g1 Rc2-e2 Rh3-b3+    

 41. Rg6xg7+ 

     DEEP BLUE   :13.00  -0.49  Rg6xg7+ Kc7-b6 Rg7-g1 Rc2-e2 Rh3-b3+ Kb6-a5    

     Rebel 8.0   :13.00  -0.51  Rg6xg7+ Kc7-b6 Rg7-g1 Rc2-e2 Rh3-b3+ Kb6-a5   

 41.          Kc7-b6  

     Kasparov,G  :12.00  0.64  Kc7-b6 Rg7-g1 Rc2-e2 Rh3-b3+ Kb6-a5 Rb3-c3      

     Rebel 8.0   :12.00  0.64  Kc7-b6 Rg7-g1 Rc2-e2 Rh3-b3+ Kb6-a5 Rb3-c3     

 42. Rh3-b3+ 

     DEEP BLUE   :13.00  -0.58  Rh3-b3+ Kb6-c5 Rg7-g1 Rf8-f2 h4-h5 Kc5-d4      

     Rebel 8.0   :13.01  -0.57  Rh3-b3+ Kb6-c5 Rg7xa7 Rc2-e2 Rb3-b2 Re2xe5    

 42.          Kb6-c5  

     Kasparov,G  :12.00  0.71  Kb6-c5 Rg7-g1 Rf8-h8 Rg1-h1 Kc5-d4 Rh1-e1       

     Rebel 8.0   :12.00  0.62  Kb6-c5 Rg7-g1 Rf8-h8 Rg1-e1 Rc2-c4 h4-h5       

 43. Rg7xa7  

     DEEP BLUE   :12.00  -0.69  Rg7xa7 Rc2-e2 Rb3-b2 Re2xe5 Ra7-a4 Kc5-d6      

     Rebel 8.0   :12.01  -0.68  Rg7-g1 Rf8-h8 Rg1-h1 Kc5-d4 Rh1-e1 c6-c5      

 43.          Rf8-f1+ 

     Kasparov,G  :12.00  0.32  Rf8-f1+ Rb3-b1 Rf1xb1+ Ka1xb1 Rc2-h2 Ra7-h7     

     Rebel 8.0   :12.00  0.70  Rc2-e2 Rb3-b2 Re2xe5 Ra7-a4 Kc5-d6 Ra4-g4      

 44. Rb3-b1  

     DEEP BLUE   : 3.00  0.27  Rb3-b1 Rf1xb1+ Ka1xb1 Rc2-e2 h4-h5              

     Rebel 8.0   : 3.00  0.27  Rb3-b1 Rf1xb1+ Ka1xb1 Rc2-e2 h4-h5      

 44.          Rf1-f2  

     Kasparov,G  :12.00  0.45  Rf1-f2 Rb1-h1 Rf2-h2 Rh1xh2 Rc2xh2 Ra7-h7       

     Rebel 8.0   :12.01  0.52  Rf1-f2 Rb1-d1 Rc2-a2+ Ka1-b1 Rf2-b2+ Kb1-c1    

 45. Rb1-b4  

     DEEP BLUE   :12.00  -0.52  Rb1-b4 Rc2-a2+ Ka1-b1 Ra2xa3 Ra7xa3 Kc5xb4     

     Rebel 8.0   :12.07  -0.36  Rb1-e1 Rc2-a2+ Ka1-b1 Rf2-b2+ Kb1-c1 Rb2-b8   

 45.          Rc2-c1+ 

     Kasparov,G  :13.00  0.32  Rc2-c1+ Rb4-b1 Rc1xb1+ Ka1xb1 Rf2-h2 Ra7-h7     

     Rebel 8.0   :13.01  0.60  Rc2-a2+ Ka1-b1 Ra2xa3 Ra7xa3 Kc5xb4 Ra3-e3     

 46. Rb4-b1  

     DEEP BLUE   : 3.00  0.00  Rb4-b1                                          

     Rebel 8.0   : 3.00  0.00  Rb4-b1       

 46.          Rc1-c2  

     Kasparov,G  :12.00  0.00                                                  

     Rebel 8.0   :12.00  0.32  Rc1xb1+ Ka1xb1 Rf2-e2 Ra7-e7 Kc5-c4 e5-e6      

 47. Rb1-b4  

     DEEP BLUE   :14.00  0.00  Rb1-b4 

     Rebel 8.0   :14.00  0.00  Rb1-b4 

 47.          Rc2-c1+ 

     Kasparov,G  :15.00  0.00  Rc2-c1+

     Rebel 8.0   :15.00  0.49  Rc2-a2+ Ka1-b1 Ra2xa3 Ra7xa3 Kc5xb4 Ra3-e3     

 48. Rb4-b1  

     DEEP BLUE   : 3.00  0.00  Rb4-b1

     Rebel 8.0   : 3.00  0.00  Rb4-b1

 48.          Rc1xb1+ 

     Kasparov,G  :12.00  0.32  Rc1xb1+ Ka1xb1 Rf2-f4 Ra7-h7 Rf4-a4 Kb1-b2      

     Rebel 8.0   :12.00  0.32  Rc1xb1+ Ka1xb1 Rf2-e2 Ra7-e7 Kc5-c4 e5-e6      

 49. Ka1xb1  

     DEEP BLUE   : 3.00  0.14  Ka1xb1 Kc5-d4 e5-e6 Rf2-e2 Ra7-a4+              

     Rebel 8.0   : 3.00  0.27  Ka1xb1 Rf2-e2 h4-h5      

 49.          Rf2-e2  

     Kasparov,G  :13.00  0.38  Rf2-e2 Ra7-e7 Kc5-c4 h4-h5 Re2-h2 Re7-e6        

     Rebel 8.0   :13.00  0.32  Rf2-e2 Ra7-e7 Kc5-c4 Kb1-c1 c6-c5 h4-h5       

 50. Ra7-e7  

     DEEP BLUE   :14.00  -0.21  Ra7-e7 d5-d4 e5-e6 Kc5-c4                      

     Rebel 8.0   :14.00  -0.18  Ra7-e7 d5-d4 e5-e6 Re2-e4 h4-h5 Kc5-d6       

 50.          Re2-h2  

     Kasparov,G  :14.00  0.14  Re2-h2 Re7-h7 Rh2-h1+ Kb1-c2 Rh1-a1 Rh7-a7      

     Rebel 8.0   :14.00  0.42  Kc5-d4 e5-e6 Kd4-e5 h4-h5 Ke5-d6 Re7-g7       

 51. Re7-h7  

     DEEP BLUE   :14.00  -0.09  Re7-h7 Kc5-c4 e5-e6 Rh2-e2 e6-e7 Kc4-b3        

     Rebel 8.0   :14.00  0.00  Re7-h7 Kc5-c4 e5-e6 c6-c5 e6-e7 Rh2-e2       

 51.          Kc5-c4  

     Kasparov,G  :14.00  0.23  Kc5-c4 e5-e6 Rh2-e2 Rh7-h6 Kc4-b3 Kb1-c1        

     Rebel 8.0   :14.00  0.25  Rh2-h3 Kb1-b2 Kc5-c4 a3-a4 c6-c5 e5-e6       

 52. Rh7-c7  

     DEEP BLUE   :14.00  -0.76  Rh7-c7 c6-c5 e5-e6 Rh2xh4 e6-e7 Rh4-e4         

     Rebel 8.0 !!:14.00  -0.22  e5-e6 Rh2-e2 Rh7-h6 d5-d4 Rh6-f6 Kc4-c3      

 52.           c6-c5  

     Kasparov,G  :14.00  0.54  c6-c5 e5-e6 Rh2xh4 e6-e7 Rh4-e4 a3-a4           

     Rebel 8.0   :14.00  0.52  c6-c5 e5-e6 Rh2xh4 e6-e7 Rh4-h1+ Kb1-c2       

 53.  e5-e6  

     DEEP BLUE   :15.00  -0.36  e5-e6 Rh2xh4 e6-e7 Rh4-h1+ Kb1-c2 Rh1-h2+      

     Rebel 8.0   :15.00  -0.28  e5-e6 Rh2xh4 a3-a4 d5-d4 e6-e7 Rh4-h1+       

 53.          Rh2xh4  

     Kasparov,G  :15.00  0.37  Rh2xh4 a3-a4 Rh4-h1+ Kb1-c2 d5-d4 e6-e7         

     Rebel 8.0   :15.00  0.43  Rh2xh4 a3-a4 d5-d4 e6-e7 Rh4-h1+ Kb1-c2        

 54.  e6-e7  

     DEEP BLUE   :15.00  -0.14  e6-e7 Rh4-h1+ Kb1-c2 Rh1-h2+ Kc2-d1 Rh2-h8     

     Rebel 8.0   :15.00  -0.12  e6-e7 Rh4-h1+ Kb1-c2 Rh1-h2+ Kc2-d1 Rh2-h8    

 54.          Rh4-e4  

     Kasparov,G  :16.00  0.11  Rh4-e4 a3-a4 d5-d4 Kb1-c2 Re4-e2+ Kc2-d1        

     Rebel 8.0   :16.00  0.20  Rh4-h1+ Kb1-c2 Rh1-h2+ Kc2-c1 Rh2-h8 Rc7-d7    

 55.  a3-a4  

     DEEP BLUE   :16.00  0.00  a3-a4 d5-d4 a4-a5 Re4-e1+ Kb1-c2 d4-d3+         

     Rebel 8.0   :16.00  0.00  a3-a4 d5-d4 Kb1-c1 d4-d3 a4-a5 Re4-e1+       

 55.          Kc4-b3  

     Kasparov,G  :15.00  0.00  Kc4-b3 Kb1-c1 c5-c4 a4-a5 c4-c3 Kc1-d1          

     Rebel 8.0   :15.00  0.00  d5-d4 a4-a5 Re4-e1+ Kb1-c2 d4-d3+ Kc2-d2       

 56. Kb1-c1  

     DEEP BLUE   :16.00  0.00  Kb1-c1 c5-c4 a4-a5 c4-c3 Kc1-d1 d5-d4           

     Rebel 8.0   :16.00  0.00  Kb1-c1 c5-c4 a4-a5 c4-c3 Kc1-d1 d5-d4          





Chess program : Ed Schröder                      Processor: Pentium PRO

Opening book  : Jeroen Noomen                        Speed: 200 Mhz

User interface: Robert Kemper              Hash table size: 13 Mb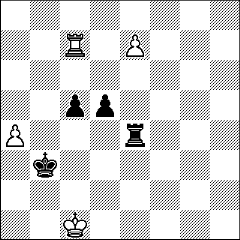 Garry Kasparov - It was a tough game. I think I was winning and I missed something in time trouble. I outplayed the machine completely with a nice pawn sacrifice. I should not have recovered the pawn (35...Rxg4), but should have doubled rooks (35...Rf2) to penetrate further into the White position.

Maurice Ashley asked Kasparov, - Instead of 51...Kc4 would you have had better winning chances with 51...d4?"

Garry Kasparov - Somehow it didn't work, I didn't believe it was winning. It should be checked. I have to analyze, I don't know exactly, but I bet at one point it was winning. I didn't have high expectations and as I was not in a good mood and I was playing Black. I think I was worse in the opening, but Deep Blue didn't play well, and at one point I was winning.

Murray Campbell - There was never any point where we were completely losing. But Deep Blue was barely hanging on for several hours.



For the best analysis on the Internet check the following links

Analysis of the six games by GM Ron Henley
Analysis by GM Yasser Seirawan



View the REBEL analyis

The Rebel Home Page has been visited
times.
Since November 23, 1995