---

REBELX analysis game 5

---
REBELX is an improved version of Rebel8 which scored a grandmaster ELO of 2619 at the last AEGON 1997 Human vs Machine tournament



The analysis is done at level 10:00 per move with Analyse Game (for both sides). After that the game is written to a text file with the Game to Textfile option.

View game overview





 White :  Garry Kasparov

 Black :  Deep Blue  

 Score :  ½-½

 Event :  Man Vs. Machine, the rematch

 Game  :  5

 Date  :  May 10, 1997

 Level :  Average time 10:00



For those who are not familiar with Rebel ...

- DEEP BLUE means the move played by DEEP BLUE through the eyes of Rebel.

- Kasparov, G means the move played by Kasparov through the eyes of Rebel.

- REBEL X means what Rebel would have played here instead.

- If Rebel notices a remarkable score difference it is marked with 2 x "!!"



  1. Ng1-f3    d7-d5  

  2.  g2-g3   Bc8-g4  

  3. Bf1-g2   Nb8-d7  

  4.  h2-h3   Bg4xf3  

  5. Bg2xf3    c7-c6  

  6.  d2-d3    e7-e6  

  7.  e2-e4   Nd7-e5  

  8. Bf3-g2    d5xe4  

  9. Bg2xe4   Ng8-f6  

 10. Be4-g2   Bf8-b4+ 

     DEEP BLUE   :10.00  -0.03  Bf8-b4+ Bc1-d2 Bb4-c5 Nb1-c3 O-O f2-f4         

     REBEL X     :10.00  0.01  Bf8-c5 O-O O-O Nb1-c3 Bc5-d4 Nc3-e2       

 11. Nb1-d2  

     Kasparov,G  :10.00  0.19  Nb1-d2 O-O O-O Bb4-e7 Rf1-e1 Qd8-d6             

     REBEL X     :10.00  0.19  Nb1-d2 O-O O-O Bb4-e7 Rf1-e1 Qd8-d6       

 11.           h7-h5  

     DEEP BLUE   :10.00  -0.34  h7-h5 O-O O-O Rf1-e1 Ne5-d7 a2-a3              

     REBEL X     :10.00  -0.07  O-O O-O Qd8-c7 d3-d4 Ne5-g6 Nd2-f3      

 12. Qd1-e2  

     Kasparov,G  :10.00  0.36  Qd1-e2 Ne5-g6 O-O h5-h4 Nd2-c4 Qd8-c7           

     REBEL X     :10.00  0.55  O-O Ne5-d7 Rf1-e1 h5-h4 c2-c3 Bb4-e7      

 12.          Qd8-c7  

     DEEP BLUE   :10.00  -0.35  Qd8-c7 d3-d4 Ne5-g6 c2-c3 Bb4-e7 O-O           

     REBEL X     :10.00  -0.33  Ne5-g6 O-O h5-h4 Nd2-c4 Qd8-c7 a2-a3       

 13.  c2-c3  

     Kasparov,G  :11.00  0.38  c2-c3 Bb4-e7 d3-d4 Ne5-g6 O-O h5-h4             

     REBEL X     :11.00  0.42  O-O h5-h4 Nd2-e4 Nf6xe4 Qe2xe4 Bb4-d6       

 13.          Bb4-e7  

     DEEP BLUE   :11.00  -0.29  Bb4-e7 d3-d4 Ne5-g6 O-O h5-h4 Qe2-d3           

     REBEL X     :11.00  -0.29  Bb4-e7 d3-d4 Ne5-g6 O-O h5-h4 Qe2-d3      

 14.  d3-d4  

     Kasparov,G  :10.00  0.36  d3-d4 Ne5-g6 O-O h5-h4 Qe2-d3 h4xg3             

     REBEL X     :10.00  0.43  O-O Ne5-g6 d3-d4 h5-h4 Qe2-d3 h4xg3      

 14.          Ne5-g6  

     DEEP BLUE   :10.00  -0.19  Ne5-g6 Nd2-f3 h5-h4 Nf3xh4 Ng6xh4 g3xh4        

     REBEL X     :10.00  -0.19  Ne5-g6 Nd2-f3 h5-h4 Nf3xh4 Ng6xh4 g3xh4       

 15.  h3-h4  

     Kasparov,G  :10.00  0.26  h3-h4 e6-e5 Nd2-f3 e5xd4                        

     REBEL X     :10.00  0.27  O-O h5-h4 Qe2-e3 c6-c5 Qe3-d3 c5xd4      

 15.           e6-e5  

     DEEP BLUE   :10.00  -0.09  e6-e5 Nd2-f3 e5xd4 Nf3xd4 O-O-O Bc1-e3         

     REBEL X     :10.00  -0.09  e6-e5 Nd2-f3 e5xd4 Nf3xd4 O-O-O Bc1-e3       

 16. Nd2-f3  

     Kasparov,G  :11.00  0.19  Nd2-f3 e5xd4 Nf3xd4 O-O Bc1-g5 Ra8-d8           

     REBEL X     :11.00  0.19  Nd2-f3 e5xd4 Nf3xd4 O-O Bc1-g5 Ra8-d8      

 16.           e5xd4  

     DEEP BLUE   :11.00  -0.10  e5xd4 Nf3xd4 O-O Bg2-f3 Be7-c5 Bc1-e3          

     REBEL X     :11.00  -0.10  e5xd4 Nf3xd4 O-O Bg2-f3 Be7-c5 Bc1-e3       

 17. Nf3xd4  

     Kasparov,G  :10.00  0.18  Nf3xd4 O-O Bg2-f3 Be7-c5 Bc1-e3 Rf8-e8          

     REBEL X     :10.00  0.18  Nf3xd4 O-O Bg2-f3 Be7-c5 Bc1-e3 Rf8-e8       

 17.           O-O-O  

     DEEP BLUE   :11.00  -0.25  O-O-O Nd4-f5 Be7-f8 Bg2-h3 Kc8-b8 Bc1-e3       

     REBEL X     :11.00  -0.04  O-O Bg2-f3 Be7-c5 Bc1-e3 Rf8-e8 Ra1-d1       

 18. Bc1-g5  

     Kasparov,G  :10.00  -0.38  Bc1-g5 Rh8-e8 O-O-O Qc7-a5 Qe2-c4 Ng6-e5       

     REBEL X     :10.01  -0.21  Bc1-e3 Rh8-e8 O-O-O Be7-c5 Nd4-f5 Nf6-g4      

 18.          Nf6-g4  

     DEEP BLUE   :10.00  0.26  Nf6-g4 Bg2-e4 Rd8-e8 Bg5xe7 Ng6xe7 O-O-O        

     REBEL X     :10.00  0.32  Rh8-e8 O-O-O Qc7-a5 Bg2-h3+ Kc8-b8 Qe2-c4      

 19.  O-O-O  

     Kasparov,G  :10.00  -0.27  O-O-O Be7xg5+ h4xg5 Qc7-e5 Rh1-e1 Qe5xg5+      

     REBEL X     :10.00  -0.12  Bg2-e4 Rd8-e8 Bg5xe7 Ng6xe7 O-O-O Ne7-d5      

 19.          Rh8-e8  

     DEEP BLUE   :10.00  -0.20  Rh8-e8 Qe2-c2 Ng6-e5 Bg5xe7 Qc7xe7 Rh1-e1      

     REBEL X     :10.00  -0.12  Be7xg5+ h4xg5 Qc7-e5 f2-f4 Qe5xe2 Nd4xe2      

 20. Qe2-c2  

     Kasparov,G  :10.00  0.30  Qe2-c2 Be7xg5+ h4xg5 Qc7-a5 Rh1xh5 Ng4-f6       

     REBEL X     :10.00  0.30  Qe2-c2 Be7xg5+ h4xg5 Qc7-a5 Rh1xh5 Ng4-f6      

 20.          Kc8-b8  

     DEEP BLUE   :10.00  -0.36  Kc8-b8 Nd4-f5 Be7xg5+ h4xg5 Qc7-b6 Rd1xd8+     

     REBEL X     :10.00  -0.32  Be7xg5+ h4xg5 Qc7-a5 Nd4-f5 Qa5-c5 Rd1xd8+    

 21. Kc1-b1  

     Kasparov,G  :10.00  0.34  Kc1-b1 Qc7-b6 Bg5xe7 Ng6xe7 Rh1-e1 g7-g6        

     REBEL X     :10.01  0.34  Kc1-b1 Qc7-b6 Bg5xe7 Ng6xe7 Rh1-e1 Ng4-f6      

 21.          Be7xg5  

     DEEP BLUE   :10.00  -0.04  Be7xg5 h4xg5 Ng6-e5 Rh1xh5 c6-c5 Nd4-b5        

     REBEL X     :10.03  -0.04  Be7xg5 h4xg5 Ng6-e5 Rh1xh5 c6-c5 Nd4-b5       

 22.  h4xg5  

     Kasparov,G  :11.00  0.14  h4xg5 Ng6-e5 Rh1-e1 Ne5-c4 Kb1-a1 Nc4-d6        

     REBEL X     :11.00  0.13  h4xg5 Ng6-e5 Rh1-e1 Ne5-c4 Kb1-a1 Re8xe1       

 22.          Ng6-e5  

     DEEP BLUE   :10.00  -0.04  Ng6-e5 Rh1-e1 c6-c5 Nd4-f5 g7-g6 Nf5-h6        

     REBEL X     :10.00  -0.04  Ng6-e5 Rh1-e1 c6-c5 Nd4-f5 g7-g6 Nf5-h6       

 23. Rh1-e1  

     Kasparov,G  : 9.00  0.12  Rh1-e1 c6-c5 Nd4-f5 g7-g6 Nf5-h6 Rd8xd1+        

     REBEL X     : 9.23  0.10  Rh1-e1 Ne5-c4 Bg2-f1 Nc4-b6 Bf1-h3 Nb6-c4      

 23.           c6-c5  

     DEEP BLUE   :10.00  -0.14  c6-c5 Nd4-f5 g7-g6 Nf5-e3 Rd8xd1+ Ne3xd1       

     REBEL X     :10.00  -0.03  Ne5-c4 Bg2-f1 Nc4-d6 Bf1-h3 Nd6-c4 Bh3xg4     

 24. Nd4-f3  

     Kasparov,G  :11.00  0.11  Nd4-f3 Rd8xd1+ Re1xd1 Ne5-c4 Qc2-a4 Re8-d8      

     REBEL X     :11.00  0.24  Nd4-b5 Qc7-b6 Rd1xd8+ Re8xd8 a2-a4 Qb6-g6      

 24.          Rd8xd1+ 

     DEEP BLUE   :10.00  -0.04  Rd8xd1+ Re1xd1 Ne5-c4 Qc2-a4 Re8-d8 Rd1-e1     

     REBEL X     :10.00  -0.04  Rd8xd1+ Re1xd1 Ne5-c4 Qc2-a4 Re8-d8 Rd1-e1    

 25. Re1xd1  

     Kasparov,G  :11.00  0.13  Re1xd1 Ne5-c4 Qc2-a4 Re8-d8 Rd1-e1 Nc4-b6       

     REBEL X     :11.00  0.15  Re1xd1 Ne5-c4 Qc2-a4 Re8-d8 Rd1-e1 Nc4-b6      

 25.          Ne5-c4  

     DEEP BLUE   :10.00  -0.07  Ne5-c4 Qc2-a4 Re8-d8 Rd1-e1 Nc4-b6 Qa4-c2      

     REBEL X     :10.00  -0.07  Ne5-c4 Qc2-a4 Re8-d8 Rd1-e1 Nc4-b6 Qa4-c2     

 26. Qc2-a4  

     Kasparov,G  :10.00  0.13  Qc2-a4 Re8-d8 Rd1-e1 Nc4-b6 Qa4-c2 Nb6-c4       

     REBEL X     :10.00  0.11  Qc2-a4 Re8-d8 Rd1-e1 Nc4-d6 Re1-e2 Nd6-c8      

 26.          Re8-d8  

     DEEP BLUE   :11.00  -0.05  Re8-d8 Rd1-e1 Nc4-b6 Qa4-c2 g7-g6 Re1-e2       

     REBEL X     :11.00  -0.05  Re8-d8 Rd1-e1 Nc4-b6 Qa4-c2 g7-g6 Re1-e2      

 27. Rd1-e1  

     Kasparov,G  :11.00  0.11  Rd1-e1 Nc4-b6 Qa4-c2 Qc7-d6 b2-b3 Nb6-d5        

     REBEL X     :11.00  0.11  Rd1-e1 Nc4-b6 Qa4-c2 Qc7-d6 b2-b3 Nb6-d5       

 27.          Nc4-b6  

     DEEP BLUE   :11.00  -0.01  Nc4-b6 Qa4-c2 Qc7-d6 a2-a3 g7-g6 Qc2-e2        

     REBEL X     :11.00  -0.01  Nc4-b6 Qa4-c2 Qc7-d6 a2-a3 g7-g6 Qc2-e2       

 28. Qa4-c2  

     Kasparov,G  :11.00  0.16  Qa4-c2 Qc7-d6 b2-b3 f7-f6 c3-c4 Nb6-c8          

     REBEL X     :11.00  0.16  Qa4-c2 Qc7-d6 b2-b3 f7-f6 c3-c4 Nb6-c8       

 28.          Qc7-d6  

     DEEP BLUE   :10.00  -0.10  Qc7-d6 b2-b3 f7-f6 c3-c4 Nb6-c8 Re1-e2         

     REBEL X     :10.00  -0.10  Qc7-d6 b2-b3 f7-f6 c3-c4 Nb6-c8 Re1-e2       

 29.  c3-c4  

     Kasparov,G  : 9.00  -0.29  c3-c4 Qd6-g6 b2-b3 Qg6xc2+ Kb1xc2 Ng4xf2       

     REBEL X     : 9.01  0.16  b2-b3 f7-f6 c3-c4 Nb6-c8 Re1-e2 Qd6-f8      

 29.          Qd6-g6  

     DEEP BLUE   :12.00  0.14  Qd6-g6 Qc2xg6 f7xg6 b2-b3 Ng4xf2 Nf3-h4         

     REBEL X     :12.01  0.23  Qd6-g6 Qc2xg6 f7xg6 b2-b3       

 30. Qc2xg6  

     Kasparov,G  :12.00  -0.07  Qc2xg6 f7xg6 b2-b3 Ng4xf2 Nf3-h4 Nf2-d3        

     REBEL X     :12.00  -0.07  Qc2xg6 f7xg6 b2-b3 Ng4xf2 Nf3-h4 Nf2-d3       

 30.           f7xg6  

     DEEP BLUE   :13.00  -0.05  f7xg6 b2-b3 Ng4xf2                             

     REBEL X     :13.00  -0.05  f7xg6 b2-b3 Ng4xf2       

 31.  b2-b3  

     Kasparov,G  :12.00  0.02  b2-b3 Ng4xf2 Nf3-h4 Rd8-d3 Re1-e7 Rd3-d1+       

     REBEL X     :12.00  -0.01  b2-b3 Ng4xf2 Nf3-h4 Rd8-d3 Re1-e2 Nf2-g4      

 31.          Ng4xf2  

     DEEP BLUE   :12.00  0.03  Ng4xf2 Nf3-h4 Rd8-d3 Re1-e7                     

     REBEL X     :12.00  0.03  Ng4xf2 Nf3-h4 Rd8-d3 Re1-e7 Rd3-d1+       

 32. Re1-e6  

     Kasparov,G  :12.00  -0.04  Re1-e6 Nb6-c8 Nf3-h4 Nf2-g4 Re6xg6 Rd8-d1+     

     REBEL X     :12.00  0.16  Nf3-h4 Rd8-d3 Re1-e7 Rd3-d1+ Kb1-c2 Rd1-d7     

 32.          Kb8-c7  

     DEEP BLUE   :12.00  0.11  Kb8-c7 Nf3-h4 Nb6-c8 Bg2-f3 Nf2-g4 Kb1-c2       

     REBEL X     :12.00  0.09  Nb6-c8 Nf3-h4 Kb8-c7 Bg2-f3 Nf2-g4 Kb1-c2      

 33. Re6xg6  

     Kasparov,G  :12.00  -0.02  Re6xg6 Rd8-d7 Nf3-h4 Nb6-c8 Bg2-f3 Nf2-g4      

     REBEL X     :12.00  0.04  Nf3-h4 Nb6-c8 Bg2-f3 Rd8-d6 Re6xg6 Rd6xg6      

 33.          Rd8-d7  

     DEEP BLUE   :12.00  0.13  Rd8-d7 Nf3-h4 Nb6-c8 Bg2-f3 Nf2-g4 Rg6-e6       

     REBEL X     :12.00  0.13  Rd8-d7 Nf3-h4 Nb6-c8 Bg2-f3 Nf2-g4 Rg6-e6      

 34. Nf3-h4  

     Kasparov,G  :12.00  0.01  Nf3-h4 Nb6-c8 Bg2-f3 Nf2-g4 Rg6-e6 Rd7-e7       

     REBEL X     :12.00  0.01  Nf3-h4 Nb6-c8 Bg2-f3 Nf2-g4 Rg6-e6 Rd7-e7      

 34.          Nb6-c8  

     DEEP BLUE   :12.00  0.11  Nb6-c8 Rg6-e6 Rd7-e7 Re6xe7+ Nc8xe7 Bg2-f3      

     REBEL X     :12.00  0.11  Nb6-c8 Rg6-e6 Rd7-e7 Re6xe7+ Nc8xe7 Bg2-f3     

 35. Bg2-d5  

     Kasparov,G  :12.00  -0.01  Bg2-d5 Nc8-d6 Kb1-c2 Kc7-b8 Rg6-e6 Nd6-b5      

     REBEL X     :12.01  0.10  Bg2-f3 Nf2-g4 Bf3xg4 h5xg4 Nh4-g2 Nc8-d6       

 35.          Nc8-d6  

     DEEP BLUE   :12.00  0.11  Nc8-d6 Bd5-e6 Rd7-e7 Nh4-g2 Nf2-d3              

     REBEL X     :12.00  0.11  Nc8-d6 Bd5-e6 Rd7-e7 Nh4-g2 Nf2-d3 Ng2-e3      

 36. Rg6-e6  

     Kasparov,G  :12.00  0.04  Rg6-e6 Nd6-b5 c4xb5 Rd7xd5 Re6-g6 Rd5-d1+       

     REBEL X     :12.01  0.00  Kb1-c2 Nf2-e4 Bd5xe4 Nd6xe4 Nh4-f5 Rd7-d2+     

 36.          Nd6-b5  

     DEEP BLUE   :11.00  0.09  Nd6-b5 c4xb5 Rd7xd5 Re6-g6 Rd5-d1+ Kb1-c2       

     REBEL X     :11.00  0.09  Nd6-b5 c4xb5 Rd7xd5 Re6-g6 Rd5-d1+ Kb1-c2      

 37.  c4xb5  

     Kasparov,G  :13.00  0.03  c4xb5 Rd7xd5 Re6-g6 Rd5-d7 Nh4-f5 Nf2-e4        

     REBEL X     :13.00  0.03  c4xb5 Rd7xd5 Re6-g6 Rd5-d7 Nh4-f5 Nf2-e4       

 37.          Rd7xd5  

     DEEP BLUE   :13.00  0.04  Rd7xd5 Re6-g6 Nf2-e4 Rg6xg7+ Kc7-b6 g5-g6       

     REBEL X     :13.00  0.04  Rd7xd5 Re6-g6 Nf2-e4 Rg6xg7+ Kc7-b6 g5-g6      

 38. Re6-g6  

     Kasparov,G  :13.00  0.17  Re6-g6 Rd5-d7 Nh4-f5 Nf2-e4 Kb1-c1 Kc7-b8       

     REBEL X     :13.00  0.17  Re6-g6 Rd5-d7 Nh4-f5 Nf2-e4 Kb1-c1 Kc7-b8      

 38.          Rd5-d7  

     DEEP BLUE   :13.00  -0.03  Rd5-d7 Nh4-f5 Nf2-e4 Kb1-c1 Rd7-d3 b5-b6+      

     REBEL X     :13.00  -0.03  Rd5-d7 Nh4-f5 Nf2-e4 Kb1-c1 Rd7-d3 b5-b6+     

 39. Nh4-f5  

     Kasparov,G  :13.00  0.21  Nh4-f5 Nf2-e4 Kb1-c1 Rd7-d3 Rg6xg7+ Kc7-b6      

     REBEL X     :13.00  0.21  Nh4-f5 Nf2-e4 Kb1-c1 Rd7-d3 Rg6xg7+ Kc7-b6     

 39.          Nf2-e4  

     DEEP BLUE   :12.00  0.01  Nf2-e4 a2-a4 Rd7-f7 Rg6xg7 Rf7xg7 Nf5xg7        

     REBEL X     :12.00  0.01  Nf2-e4 a2-a4 Rd7-f7 Rg6xg7 Rf7xg7 Nf5xg7       

 40. Nf5xg7  

     Kasparov,G  :12.00  -0.08  Nf5xg7 Rd7-d1+ Kb1-b2 Rd1-d2+ Kb2-c1 Rd2xa2    

     REBEL X     :12.00  0.04  Kb1-c1 Rd7-d5 Nf5xg7 Ne4xg3 Rg6-h6 Ng3-e2+     

 40.          Rd7-d1+ 

     DEEP BLUE   :12.00  0.07  Rd7-d1+ Kb1-b2 Rd1-d2+ Kb2-c1 Rd2xa2 Ng7xh5     

     REBEL X     :12.00  0.07  Rd7-d1+ Kb1-b2 Rd1-d2+ Kb2-c1 Rd2xa2 Ng7xh5    

 41. Kb1-c2  

     Kasparov,G  :12.00  0.00  Kb1-c2 Rd1-d2+ Kc2-c1 Rd2xa2 Ng7xh5 Ne4-d2      

     REBEL X     :12.00  0.00  Kb1-b2 Rd1-d2+ Kb2-c1 Rd2xa2 Ng7xh5 Ne4-d2     

 41.          Rd1-d2+ 

     DEEP BLUE   :12.00  0.00  Rd1-d2+ Kc2-c1 Rd2xa2 Ng7xh5 Ra2-g2 Nh5-f6      

     REBEL X     :12.00  0.00  Rd1-d2+ Kc2-c1 Rd2xa2 Ng7xh5 Ra2-g2 Nh5-f6     

 42. Kc2-c1  

     Kasparov,G  :12.00  0.11  Kc2-c1 Rd2xa2 Ng7xh5 Ra2-g2 Nh5-f6 Ne4-c3       

     REBEL X     :12.00  0.06  Kc2-c1 Rd2xa2 Ng7xh5 Ra2-g2 Rg6-e6 Ne4xg3      

 42.          Rd2xa2  

     DEEP BLUE   :12.00  0.00  Rd2xa2 Ng7xh5 Ra2-g2 Nh5-f6 Ne4-c3 g3-g4        

     REBEL X     :12.00  0.00  Rd2xa2 Ng7xh5 Ra2-g2 Nh5-f6 Ne4-c3 g3-g4       

 43. Ng7xh5  

     Kasparov,G  :12.00  0.07  Ng7xh5 Ra2-g2 Rg6-e6 Ne4xg3 Nh5-f4 Rg2-g1+      

     REBEL X     :12.00  0.07  Ng7xh5 Ra2-g2 Rg6-e6 Ne4xg3 Nh5-f4 Rg2-g1+     

 43.          Ne4-d2  

     DEEP BLUE   :12.00  0.04  Ne4-d2 Rg6-h6 Nd2xb3+ Kc1-b1 Ra2-d2 Nh5-f6      

     REBEL X     :12.00  0.00  Ra2-g2 Nh5-f6 Ne4-c3 g3-g4 Rg2-e2 b5-b6+      

 44. Nh5-f4  

     Kasparov,G  :12.00  -0.30  Nh5-f4 Nd2xb3+ Kc1-d1 c5-c4 Kd1-e1 Ra2-a1+     

     REBEL X   !!:12.00  0.43  Rg6-g7+ Kc7-b6 g5-g6 Nd2xb3+ Kc1-b1 Ra2-d2     

 44.          Nd2xb3+ 

     DEEP BLUE   :12.00  0.16  Nd2xb3+ Kc1-b1 Ra2-d2 Rg6-g7+ Kc7-b6 g5-g6      

     REBEL X     :12.00  0.25  Nd2xb3+ Kc1-b1 Ra2-d2 Rg6-e6 Rd2-d8 g5-g6      

 45. Kc1-b1  

     Kasparov,G  :12.00  -0.17  Kc1-b1 Ra2-d2 Rg6-f6 c5-c4 Rf6-f5 Nb3-d4       

     REBEL X     :12.00  0.00  Kc1-b1 Ra2-d2 Rg6-e6 c5-c4 Re6-e4 Kc7-b6       

 45.          Ra2-d2  

     DEEP BLUE   :12.00  0.09  Ra2-d2 Rg6-e6 Rd2-d8 g5-g6 Nb3-d4 g6-g7         

     REBEL X     :12.00  0.09  Ra2-d2 Rg6-e6 Rd2-d8 g5-g6 Nb3-d4 g6-g7       

 46. Rg6-e6  

     Kasparov,G  :12.00  -0.14  Rg6-e6 c5-c4 Re6-e4 Kc7-b6 Re4xc4 Kb6xb5       

     REBEL X     :12.00  -0.14  Rg6-e6 c5-c4 Re6-e4 Kc7-b6 Re4xc4 Kb6xb5      

 46.           c5-c4  

     DEEP BLUE   :12.00  0.01  c5-c4 Re6-e4 Kc7-b6 Re4xc4 Rd2-d8 Rc4-c3        

     REBEL X     :12.00  0.01  c5-c4 Re6-e4 Kc7-b6 Re4xc4 Rd2-d8 Rc4-c3       

 47. Re6-e3  

     Kasparov,G  :12.00  -0.66  Re6-e3 Kc7-b6 g5-g6 Kb6xb5 g6-g7 Rd2-d1+       

     REBEL X   !!:12.00  -0.06  Re6-e4 Kc7-b6 Re4xc4 Kb6xb5 Rc4-c2 Rd2xc2     

 47.          Kc7-b6  

     DEEP BLUE   :12.00  0.78  Kc7-b6 g5-g6 Kb6xb5 g6-g7 Rd2-d1+ Kb1-c2        

     REBEL X     :12.00  0.77  Kc7-b6 g5-g6 Kb6xb5 g6-g7 Rd2-d1+ Kb1-c2       

 48.  g5-g6  

     Kasparov,G  :12.00  0.00  g5-g6 Kb6xb5 g6-g7 Rd2-d1+ Kb1-b2 Rd1-d8        

     REBEL X     :12.00  0.00  g5-g6 Kb6xb5 g6-g7 Rd2-d1+ Kb1-b2 Rd1-d8       

 48.          Kb6xb5  

     DEEP BLUE   :11.00  0.00  Kb6xb5 g6-g7 Rd2-d1+ Kb1-b2 Rd1-d8 Nf4-d5       

     REBEL X     :11.00  0.00  Kb6xb5 g6-g7 Rd2-d1+ Kb1-b2 Rd1-d8 Nf4-d5      

 49.  g6-g7  

     Kasparov,G  :13.00  0.00  g6-g7 Kb5-b4 g7-g8Q Rd2-d1+ Kb1-c2 Rd1-d2+      

     REBEL X     :13.00  0.00  g6-g7 Kb5-b4 g7-g8Q Rd2-d1+ Kb1-c2 Rd1-d2+     

 49.          Kb5-b4  

     DEEP BLUE   :13.00  0.00  Kb5-b4 Re3-d3 c4xd3 g7-g8Q Rd2-d1+ Kb1-b2       

     REBEL X     :13.00  0.00  Kb5-b4 g7-g8Q Rd2-d1+ Kb1-c2 Rd1-d2+           





Chess program : Ed Schröder                      Processor: Pentium PRO

Opening book  : Jeroen Noomen                        Speed: 200 Mhz

User interface: Robert Kemper              Hash table size: 13 Mb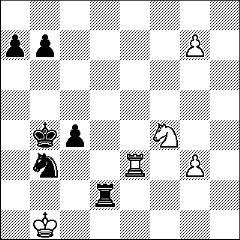 Garry Kasparov - This game was very exciting, and probably very well played. I was amazed by h5. In this match, there are many discoveries - 11...h5 is a good move - We have to admire the computer's deep positional understanding. Anyway, the game was very tough. At one point it was dangerous for me. White had many weaknesses . I was very worried at the point the machine played 23...c5. I managed to escape by a miracle. When I played 29.c4 I felt I was out of danger.

Garry Kasparov - It was then a miracle the computer escaped. It is a normal result, when both sides play well. I was proud, that with so many pieces hanging and short of time, I didn't lose anything. Tomorrow a tough challenge lies ahead, as I play with the Black pieces. Probably the only good thing for me tommorow is not to resign in advance!



For the best analysis on the Internet check the following links

Analysis of the six games by GM Ron Henley
Analysis by GM Yasser Seirawan



View the REBEL analyis

The Rebel Home Page has been visited
times.
Since November 23, 1995