---

REBEL8 analysis game 6

---
The analysis is done at level 10:00 per move with Analyse Game (for both sides). After that the game is written to a text file with the Game to Textfile option.

View Rebel8 game overview





 White :  Deep Blue

 Black :  Garry Kasparov

 Score :  1-0

 Event :  Man Vs. Machine, the rematch

 Game  :  6

 Date  :  May 11, 1997

 Level :  Average time 10:00



For those who are not familiar with Rebel ...

- DEEP BLUE means the move played by DEEP BLUE through the eyes of Rebel.

- Kasparov, G means the move played by Kasparov through the eyes of Rebel.

- Rebel 8.0 means what Rebel 8.0 would have played here instead.

- If Rebel notices a remarkable score difference it is marked with 2 x "!!"



  1.  e2-e4    c7-c6  

  2.  d2-d4    d7-d5  

  3. Nb1-c3    d5xe4  

  4. Nc3xe4   Nb8-d7  

  5. Ne4-g5   Ng8-f6  

  6. Bf1-d3    e7-e6  

  7. Ng1-f3    h7-h6  

  8. Ng5xe6   Qd8-e7  

  9.   O-O     f7xe6  

 10. Bd3-g6+  Ke8-d8  

 11. Bc1-f4  

     DEEP BLUE   :11.00  -1.44  Bc1-f4 Nf6-d5 Bf4-g3 Qe7-b4 Qd1-b1 Nd5-e7      

     Rebel 8.0   :11.00  -1.24  c2-c4 Nf6-e8 Qd1-d3 c6-c5 Bc1-e3 c5xd4       

 11.           b7-b5  

     Kasparov,G  :11.00  1.03  b7-b5 Rf1-e1 Nf6-d5 Bf4-g3 Bc8-b7 a2-a4         

     Rebel 8.0 !!:11.00  1.53  Nf6-d5 Bf4-g3 Qe7-b4 Qd1-c1 Nd5-e7 c2-c3       

 12.  a2-a4  

     DEEP BLUE   :11.00  -0.98  a2-a4 Bc8-a6 a4xb5 Ba6xb5 Rf1-e1 Kd8-c8        

     Rebel 8.0   :11.00  -0.84  Rf1-e1 Nf6-d5 Bf4-g3 Bc8-b7 a2-a4 Nd7-f6      

 12.          Bc8-b7  

     Kasparov,G  :11.00  0.89  Bc8-b7 Rf1-e1 Nf6-d5 Bf4-g3 a7-a6 a4xb5         

     Rebel 8.0   :11.00  0.98  Bc8-a6 a4xb5 Ba6xb5 Rf1-e1 Kd8-c8 Bf4-g3       

 13. Rf1-e1  

     DEEP BLUE   :11.00  -0.81  Rf1-e1 Nf6-d5 Bf4-g3 a7-a6 a4xb5 a6xb5         

     Rebel 8.0   :11.00  -0.84  Rf1-e1 Nf6-d5 Bf4-g3 a7-a6 Qd1-c1 Nd7-f6      

 13.          Nf6-d5  

     Kasparov,G  :11.00  1.04  Nf6-d5 Bf4-g3 a7-a6 b2-b3 h6-h5 c2-c4           

     Rebel 8.0   :11.00  0.99  Nf6-d5 Bf4-g3 a7-a6 c2-c3 Kd8-c8 Bg6-f5      

 14. Bf4-g3  

     DEEP BLUE   :11.00  -0.77  Bf4-g3 a7-a6 a4xb5 c6xb5 Qd1-d2 Kd8-c8         

     Rebel 8.0   :11.00  -0.80  Bf4-g3 a7-a6 Bg6-f5 e6xf5 Re1xe7 Bf8xe7       

 14.          Kd8-c8  

     Kasparov,G  :11.00  0.63  Kd8-c8 Bg6-f5 Nd5-c7 a4xb5 c6xb5 Bg3xc7         

     Rebel 8.0   :11.00  0.94  a7-a6 a4xb5 a6xb5 Ra1xa8+ Bb7xa8 Bg6-f5       

 15.  a4xb5  

     DEEP BLUE   :11.00  -0.45  a4xb5 c6xb5 Qd1-d3 h6-h5 c2-c4 b5xc4           

     Rebel 8.0   :11.01  -0.45  a4xb5 c6xb5 Qd1-d3 h6-h5 c2-c4 b5xc4        

 15.           c6xb5  

     Kasparov,G  :11.00  0.54  c6xb5 Bg6-f5 Nd5-c7 Bg3xc7 Kc8xc7 Re1xe6        

     Rebel 8.0   :11.00  0.39  c6xb5 Bg6-f5 Nd5-c7 Bg3xc7 Qe7-f6 Bf5-g4       

 16. Qd1-d3  

     DEEP BLUE   :11.00  -0.59  Qd1-d3 Nd5-c7 Qd3-c3 Qe7-d8 Re1xe6 b5-b4       

     Rebel 8.0   :11.01  -0.46  Bg6-f5 e6xf5 Re1xe7 Bf8xe7 Qd1-e2 a7-a6       

 16.          Bb7-c6  

     Kasparov,G  :11.00  0.22  Bb7-c6 Bg6-f5 e6xf5 Re1xe7 Nd5xe7 Nf3-h4        

     Rebel 8.0   :11.00  0.62  Nd5-c7 Bg3xc7 Kc8xc7 Qd3xb5 Qe7-b4 Qb5-e2      

 17. Bg6-f5  

     DEEP BLUE   :11.00  -0.14  Bg6-f5 e6xf5 Re1xe7 Nd5xe7 Nf3-h4 g7-g6        

     Rebel 8.0   :11.00  -0.14  Bg6-f5 e6xf5 Re1xe7 Nd5xe7 Nf3-h4 g7-g6      

 17.           e6xf5  

     Kasparov,G  :11.00  0.12  e6xf5 Re1xe7 Nd5xe7 Bg3-d6 Ne7-d5 Bd6-e5        

     Rebel 8.0   :11.00  0.12  e6xf5 Re1xe7 Nd5xe7 Bg3-d6 Ne7-d5 Bd6-e5      

 18. Re1xe7  

     DEEP BLUE   :12.00  0.48  Re1xe7 Nd5xe7 Nf3-h4 g7-g6 Nh4xg6 Ne7xg6        

     Rebel 8.0   :12.00  0.36  Re1xe7 Nd5xe7 Nf3-h4 g7-g6 Nh4xg6 Ne7xg6       

 18.          Bf8xe7  

     Kasparov,G  :11.00  -1.25  Bf8xe7 c2-c4 b5xc4 Qd3xc4 Nd5-b4 Ra1-e1        

     Rebel 8.0 !!:11.00  -0.40  Nd5xe7 Nf3-h4 Bc6-e4 Qd3-c3+ Ne7-c6 Nh4xf5    

 19.  c2-c4  

     DEEP BLUE   :12.00  1.58  c2-c4 Nd5-b4 Qd3xf5 Rh8-f8 Qf5-e6 Be7-d8        

     Rebel 8.0   :12.00  1.50  c2-c4 Nd5-b4 Qd3xf5 Rh8-f8 Qf5-e6 Be7-d8       





Chess program : Ed Schröder                      Processor: Pentium PRO

Opening book  : Jeroen Noomen                        Speed: 200 Mhz

User interface: Robert Kemper              Hash table size: 13 Mb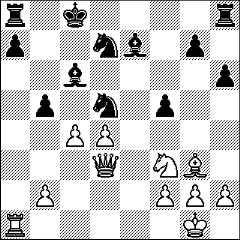 GM Ron Henley - A thematic crush in this Caro-Kann variation, for if 19...bxc4 (19...Nb4 20.Qxf5 wins) 20.Qxc4 Nb4 (20...Kb7 21.Qa6 mate) 21.Re1 winning. When Kasparov resigned after barely more than an hour's play, we realized in the press room that we had witnessed something unique in the history of chess.

GM Ron Henley - I cannot ever remember Garry suffering such a crushing defeat. Deep Blue has won the match 3.5-2.5! against the prediction of any of the grandmasters that I had spoken to before the match began.

GM Yasser Seirawan - With all due respect to the Deep Blue team, I think Garry simply made a finger fehler on move ...h6. I am stunned! I absolutely did not expect this result!

The Schröder BV - After the game Kasparov indeed said that he had mixed up 7.. h6?? and 7.. Bd6 being normal theory, see the Rebel 8.0 main book. We want to congratulate the Deep Blue team with this historic victory!



For the best analysis on the Internet check the following links

Analysis of the six games by GM Ron Henley
Analysis by GM Yasser Seirawan



View the REBEL analyis

The Rebel Home Page has been visited
times.
Since November 23, 1995