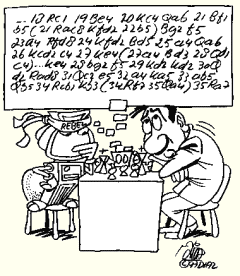 In cooperation with Lost Bost Interactive a special version of REBEL10 will analyze all games in progress during many major GM tournaments.

So besides following all the games LIVE also Rebel's analysis will be given on all games in progress.

During each tournament the special REBEL10 version will run on a fast Pentium and will analyze up to 3 games in progress by constantly calling the Rebel engine every time a new move is played by one of the participants.






The special REBEL10 engine has the following options:



Analyse the current board position.

Analyse the last move played.

Rebel's view on the last move played.





EXAMPLE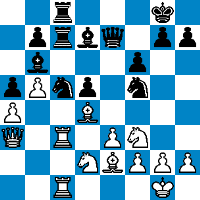 This position comes from the game GM Timoshchenco - REBEL, Aegon 1997 after 20. Rfc1?

Using option I Rebel will show 20..Nxa4! score 0.86

Using option II Rebel will show 20.Qa2 score -0.05

Using option III Rebel will show 20.Rfc1 score -0.81


Using these multiple options it's easy to see that GM Timoshchenco overlooked the surprising 20..Nxa4! and that 20.Qa2 was a much better move than 20.Rfc1?



The Tournament calendar

Sonnevanck Wijk aan Zee (NED), December 1998, with many articles

Fontys Tilburg (NED), October 1998, catagory 18

Cancan Roquebrune (FRA), September 1998, Ladies - Veterans

EuroTel Prague (CZE), September 1998, Timman - Kasparov

Lost Boys 6th, Antwerp (BEL), July 1998

Chess Classic '98, Frankfurt (GER), June 1998, won by Anand

The famous Hoogovens Tournament (January, February 1998)
with Michael Adams, Viswanathan Anand, Boris Gelfand, Anatoly Karpov, Vladimir Kramnik, Friso Nijboer, Jeroen Piket, Judit Polgar, Valery Salov, Alexei Shirov, Paul van der Sterren, Jan Timman, Veselin Topalov, Loek van Wely.

The WC FIDE final in Lausanne (January 1998)
Karpov - Anand, Karpov again is the new FIDE world champion!

World Championship Groningen (NED) 12/97

Merrillville IN. USA, from November 28-30, 1997
with Yasser Seirawan, Alex Yermolinsky, Tal Shaked, Jan Timman, Jeroen Piket and Loek van Wely.

The famous Fontys tournament, Tilburg from September 26 till October 9
with Kasparov, Judith Polgar, Adams, Onischuk, Kramnik, Piket, Van Wely, Lautier, Svidler, Leko, Shirov

Fifth Lost Boys tournament Antwerpen 1997, August 1 till August 10
with Rongguang Ye, Van der Sterren, Novikov, Korchnoi, Piket, Sokolov, Van Wely and Topalov.

Hostdans, Ladies against Veterans, Copenhagen 1997, July 16 till July 27
with Spasski, Portisch, Hort, Smyslov, Taimanov, Arekhamia, Xie, Zu Chen, Ioseliani, and Cramling.

The Dutch championship 1997, Rotterdam June 20 till July 13
with Jan Timman, Jeroen Piket, Nikolic, Sokolov, van der Wiel, van der Sterren, Nijboer, Sosonko and Cifuentes.






Click here to view the next upcoming LIVE tournaments!