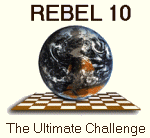 Overview:

Looking for a new chess program? Stop looking around and take a very close look at REBEL 10 from Schroeder BV. REBEL 10 is the latest version of the famous series of Rebel chess programs by Ed Schroeder.

For many years, the Rebel programs have been very strong competitors in various chess tournaments, both human and computer, around the globe.

The Rebel line of programs is renowned for its human-like playing style and rather refined sense of positional play. Rebel 10 continues this trend and adds some very good database functionality to provide a well rounded playing partner and analyst companion.

Databases of chess games are increasingly an important part of the chess player's arsenal. Rebel 10 provides some of the richest database search and sorting abilities of all the chess programs available, besides ChessBase 7.0.

Recently, Rebel 10 played a match against Viswanathan Anand, the second best chess player (going by ELO Rating) in the world. Rebel 10 won the match. The Rebel programming team gave much of the credit to the Anti-GM feature of Rebel 10. More on this further on in the review.

Rebel 10 is still a DOS program, having not yet been converted to run under Windows 95/98. While some will see this as an atrocity, in actuality, Rebel 10 sports many (not all!) of the features of a program running under Windows 95/98.

I ran Rebel 10 under DOS, Windows 95 and Windows 98. I did not have to make ANY changes to my DOS system files such as CONFIG.SYS and AUTOEXEC.BAT. The program is remarkably stable, with forced reboots never occurring.

I did once get the database management screen so thoroughly confused that I had to exit the program and restart it to have the database display work correctly. This happened only once in the several dozen times I used the program.

One notable deficiency of the program when run under either Windows 95 or Windows 98 is that it will not allow the user to interact with other programs while Rebel is running. Once you start Rebel 10 under Windows, other programs you had running are still there, but you cannot access them without quitting Rebel 10 first. This is a significant annoyance to Windows users who are quite used to jumping from program to program in the Windows environment, without quitting each program to start another.

My testing was done on a Pentium 150 Mhz Toshiba laptop with 48 MB RAM and an IBM Aptiva with an AMD K6-II 300 Mhz processor with 64 MB RAM. The Toshiba ran Windows 95, and the Aptiva ran Windows 98. I ran Rebel 10 both from DOS and from within Windows 95/98.



---

General Impression (user comfort etc.)

Overall, Rebel 10ís feel is one of a well-tuned environment. Menu items are well designed, with related functions conveniently located on the same pull-down menu. This makes for a pleasant experience when using the menus to configure the many options that Rebel 10 offers.

The graphics are pleasing to the eye and can be customized to your heartís content. Colors, sizes, locations of on-screen objects can all be changed to suit your needs.

Much has changed since Rebel 9 came out about one year ago. Rebel 10 seems much more tactically aware, though still not to the level of some other programs. Especially those renowned for seeing virtually any tactical shot in a position -- the so-called speed demons with very high node per second performance numbers.

The list of improvements made for Rebel 10 are too numerous to list here -- I strongly suggest you visit the Rebel home page on the web at www.rebel.nl/edindex.htm. This is one huge plus for Rebel 10 -- the web site is wonderfully full of so many tidbits it's hard to fathom at times.

Additionally, Rebel 10 users can subscribe to a hidden section of this site to download additional goodies that are periodically updated. This portion of the site contains everything from utility programs to assist with EPD diagrams to databases of famous games to opening books for use with Rebel, etc. This free subscription service is nearly worth the purchase price of Rebel 10 by itself!

Rebel 10 installed flawlessly on my systems. I copied the Encyclopedia of Chess (EOC) from the Rebel 10 CD to my hard disk as well as gamebase of 300,000 games that comes with Rebel 10. The EOC is described separately elsewhere in this review. The entire installation process took about 5 minutes and consumed about 160 MB of disk space, for everything -- EOC, gamebase of 300,000 games, Rebel 10 opening books, etc.

Rebel 10 offers you unlimited installation from CD to your hard disk. Hard disk crashes are not going to force you to buy another copy of Rebel just to renew some silly counter that tracks how many times you have installed the product. Once installed, the software does not require you re-insert the CD for verification of your right to run it.

This is what I consider a very sane approach to licensing of software and others in this industry would do well to mimic it.

When starting Rebel 10, you are presented (after the title screen is dismissed with a mouse click) with a graphical depiction of a chessboard, and various windows. These windows contain: the list of moves in the game, clocks for each player, etc. There is also a row of menu items across the top of the screen.

Rebel 10 offers the serious chess player many, many options. Thankfully, Ed Schroeder has thought about the less experienced user as well. You can reduce the number of menu items and choices on those menus by selecting "Novice" and "Usual" for the "User Interface" menu item under the "Config" menu.

Selecting "Novice" greatly reduces the number of options you see when using the pull-down menus, while "Usual" makes most options visible in the menus. Alternately, selecting "Extended" provides you with every possible option -- perfect for the hard-core computer chess enthusiast.

One of the big new features of the Rebel user interface is that the individual windows are resizable and moveable by the user. This allows you to create your own favorite screen appearance and save it as a "screen layout." In this way, there should be an arrangement of the screen items that pleases almost anyone, available at the touch of a button.

Rebel 10 also offers the ability to completely customize the use of up to 24 on-screen buttons, each with its own single letter "name." These buttons can be defined to perform any function that is possible with this software. You can, with a click of the correct button, have Rebel 10 looking and acting just the way you want -- everything from time controls to playing style to window arrangement on screen to opening book selection can be assigned to these buttons. This is a very nice customization feature.

Another nice feature of these buttons is that if you move your mouse cursor slowly over these buttons, their assigned function will be displayed in a small pop-up window, reminding you of the button's purpose. This eliminates the "click a button to see what it does" or "write down the button assignments on a piece of paper and stick it to the computer monitor" dilemma.



---

Playing Strength:

Rebel programs have long been regarded as some of the strongest playing programs available. Rebel 10 seems to me to be tactically stronger than its predecessors, but not a great deal more. Positionally, Rebel 10 seems a bit stronger than Rebel 9, but again, not a great deal more.

Rebel 10 plays middlegames with substantial vigor, especially with the Anti-GM software enabled. Rebel 10 endgame play is solid, but not up to the same high level as its middlegame and opening play. What is Rebel 10ís ELO rating? This is never an easy question for any chess program reviewer.

Suffice it to say that it is stronger than Rebel 9 which was easily greater than 2500 ELO on a Pentium system running at 200 Mhz. My guess is 2550 on a Pentium-II at 200 Mhz, but it is only a guess which is based on observing results against other programs.

Rebel 10 seems to be somewhat stronger than Rebel 9 overall, and the Anti-GM and EOC capability will make it an even tougher and more enjoyable opponent for humans.

Anti-GM is a new feature of Rebel 10 that contributes to playing strength in that it will make it more difficult for opponents to wrest the initiative away from Rebel. The Anand match showed this quite well.

This Anti-GM software seeks to influence the program's moves so that the resulting positions are awkward for Grandmasters to play against. It allows the program to play certain pawn sacrifices it would otherwise not play, or more generally seek to seize and maintain the initiative. Playing a game with the initiative in your favor allows you to "call the shots" in many respects, and GMs are excellent at doing this, particularly against computer opponents!

Rebel 10 showed that it was able to seize and maintain the initiative against Anand with the Anti-GM option set to its default value of "Smart". The program then decides for itself if the Anti-GM software should be set to Off, Active, or Strong, based on the position it is currently analyzing.

Another exciting new feature of Rebel 10 is the Encyclopedia of Chess (EOC). The Rebel 10 CD comes with a small version of this, built from the 300,000 game database that also comes with the CD, that has 16,000,000 (16 million) positions. You can separately purchase a much larger EOC with 50,000,000 (50 million) positions in it.

The EOC database is not enabled by default. With the EOC feature set to Active, Strong, or Book, Rebel 10ís move selection is influenced by the contents of the EOC.

With EOC set to Book, the opening book of Rebel 10 is enlarged by including the 16,000,000 (or with the separately purchased EOC, 50 million!) positions from EOC as one large opening book.

This is of some use, but let's face it, any database of several hundred thousand games will have some moves in it that are weak. Any program that cannot avoid playing weak moves in an opening book is destined for trouble sooner or later.

The more exciting EOC-related options are Active and Strong. These settings influence, but do not dictate, the moves that Rebel 10 plays if out of book. Before starting to search a position, with EOC set to either Active or Strong, Rebel 10 scans the EOC database to see if the current position from your game is in the EOC database. If this position is in the database, Rebel 10 looks to see what move(s) were played in this position, and with what success!

If a given move appears in the database, but the result of that game was a loss for that player, Rebel 10 will penalize the score of that move in an attempt to steer the game in a different direction. This is excellent for large databases with some questionable games/moves in it - Rebel 10 wonít blindly follow the course of a game with blunders in it.

On the other hand, if a move in the EOC database results in a win for most of the people that played it, Rebel 10 will artificially add some evaluation points to that move in an attempt to have it earn the highest evaluation. The move with the highest evaluation after a search is played by the program.

The Strong EOC setting will cause Rebel to add more evaluation points than the Active EOC setting will. Rebel 10 will effectively benefit from GM-level moves as long as Rebel 10 can "see" the benefit of a given GM move in the EOC database.

I have watched this happen repeatedly as Rebel 10 played games against myself or against other programs -- it works very well indeed, and is much more reliable than just blindly extending the opening book of a program by importing thousands of games of questionable quality into your programís opening book.

EOC is capable of enhancing the playing strength of Rebel 10 significantly, especially when the quality of the games in the EOC is, overall, quite high. I have seen games where sacrifices that Rebel 10 would not normally play are quickly seen (usually around ply 7 or 8) due to the influence of the EOC and the GM games that are stored in it.

When EOC is active, Rebel 10 will tend to play more like the GMs that played the games which are stored in the EOC database. When the position reached is not stored in the EOC database, Rebel 10 plays as it "normally" would. In effect, the EOC is like a "cheat sheet" of interesting moves for Rebel 10 to examine - Rebel 10 is getting hints from the GMs for those positions in the EOC database.



---

Database Functions:

The database functions of Rebel 10 are quite substantial. You can search through a database by Player Name, ELO, ECO code for the opening played, the date the game was played, the result of the game, and many others. There is a set of built-in search functions that are predefined and very fast.

There is also a search mask function that is very flexible, allowing you search on a slew of fields, position, pattern, material, a free field you define the value of, etc; all of which can be combined with relational operators (&&, | | , and !=), though the search through the 300,000 gamebase using this feature is rather slow by comparison.

I would estimate that the search mask function is approximately 4 times slower than the built-in functions (which have little customizability). The array of search capabilities both pre-defined and customizable is very powerful.



---

Book Functions:

Rebel 10 has a huge opening book of approximately 1.7 million positions. User defined books can be created and edited. Of particular interest is the ability to make a user-defined Opening Book from a database of games.

This allows you to use the database functionality to select the games of a single player and then create an opening book of that player's openings only! This is great for opening preparation against a particular opponent, though I find it helps me little in preparing for games against Rebel 10 due to its incredible playing strength.

The Rebel 10 Subscription will allow you to keep your Rebel 10 opening books up to date by downloading new games as they are played around the world. You might also consider accessing the web site for "The Week in Chess" (www.chesscenter.com/twic/twic.html) where new games are posted weekly from major tournaments across the planet. In this way, Rebel will continue to play openings that are "in vogue" in the chess world.

Rebel can also analyze openings, looking for improvements. This analysis can be saved in the opening book for Rebel's use during play.



---

Other Features:

Rebel 10 offers many features not yet mentioned. A full treatment of them is not within the scope of this review. Suffice it to say that you can significantly weaken the play of the program. This is absolutely necessary for the non-titled players among us.

Some of the features deal with an unusual but fun change to the rules relating to the clock, where you define rules for how time is managed - moving pawns may add 10 seconds to your clock, while moving a queen may cost you 5 seconds, etc. While of little practical use from a purely theoretical point of view, it is a nice diversion from serious chess.



---


Likes:
I like the playing style of Rebel 10 -- only a few others can rival its human-like feel.



The EOC adds a new dimension to this and Rebel 10 will tend to play moves that GMs played in the same position.



The Rebel web page is a huge plus and no Rebel 10 owner should fail to explore it fully.



Additionally, Rebel 10 subscribers will get a free beta copy of Rebel for Windows when it comes out sometime in 1999.



The online manual is very helpful. Although the structuring of some of the English is a bit awkward at times, the content is there and the search capability inside the help system is very useful.
---
Dislikes:
Rebel 10 is enormously strong, and a great analysis partner. This is not a dislike! One missing feature is the ability to analyze a game and create variations to the main line of the game. This forces you to write down analysis on paper, noting Rebel's score for each position.



After using Windows-based programs, it can be a bit cumbersome to have to reboot to DOS, or alternatively, start Rebel and not be able to use your other Windows programs that may be running until you exit Rebel 10. The integration between Rebel for Windows (when it arrives) and the other applications running under Windows will allow copy-and-paste so that Rebel analysis can be moved into other applications easily. Today you have to retype it by hand after writing it down, or save it to a text file and then import that into your Windows applications.



There is no contempt factor setting that I could find. This would be a great enhancement as it would allow you to specify how much Rebel should try to avoid a draw. This could make the program play even harder for the initiative, even taking risks that it would not otherwise take. This may not make for higher quality chess moves, but it would be another way to improve even further the human-like play of the program.



There is no way to resign or offer a draw to Rebel 10. The resignation seems trivial, but you must just stop playing the game, and save it, and during the save, enter the result. This seems a bit clumsy to me.



The sound capabilities of the program are a bit limited. I'm not looking for speech ;-) I am only wanting to be able to control the volume of the beep, at least. The beep on my system is not very loud and the pedestal for my system sits on the floor away from my monitor. It is sometimes difficult to hear when Rebel 10 has moved.
---
Recommendation:
If you desire a chess program with lots of gimmicks, multimedia animation of pieces being captured, and other similar extravagance that is unrelated to playing chess, then this program is NOT for you.



If you are a serious student of the game, this program will impress and assist you.



Do not let the DOS nature of this fine program dissuade you. In fact, many can argue that the finest programs in terms of playing strength and human-like style are both DOS programs.



I recommend you purchase Rebel 10 at its now reduced price and let it improve your chess and your enjoyment of the game.
---

Ordering information

In general REBEL10 (new) costs $59.95, REBEL10 (upgrade) costs $29.95. For specific valuta check the Rebel price list.

The below two companies ship REBEL software all over the world, allow all possible payments like VISA/MASTER etc., are known for good service and fast delivery. You can email Gambit Soft (Germany) or ICD Your Move (New York) by clicking on the companies logo for remaining questions or to enter your order.



Order from Gambit Soft (Germany) attention Bert Seifriz.






Order from ICD Your Move (USA) attention Steve Schwartz.



If you want to order from your local dealer then check out the REBEL dealer list.

REBEL dealer list (by phone)

REBEL dealer list (by email)