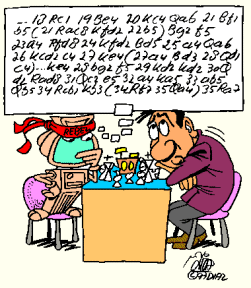 The CHESS 2010 POLL clearly shows that people consider Man versus Machine games to be more important than Computer versus Computer.

Due to the absence of strong Man versus Machine competitions Rebel company wants to introduce a new initiative called The Monthly GM Challenge.

The goal is that REBEL plays one LIVE tournament game against a grandmaster once a month. Live coverage including Rebel analysis via the Rebel Home Page.

Prizes:
$500 if the grandmaster wins against REBEL.
$250 for a draw.
No prize money in case of a loss against REBEL.
We challenge every chess player with an official FIDE grandmaster title to take the bite and play our program. You can contact us by email at Mail to REBEL. Acceptance of entries is done in the order we receive them.



The 8th game is scheduled on Saturday January 8, 2000 against GM Ruslan Scherbakov.
---
Biographical information GM Ruslan Scherbakov

I was born on 14.09.1969 in a very small town Staraya Russia, near Great Novgorod. At the age of 4 I learned to play chess and seriously started to study chess at 11, when my family moved from the Great Novgorod region to Cheliabinsk in 1980.

From 1981 to 1992 I attended the Russian nation-wide chess school with GM A.N.Panchenko as the principle. Seminars were held twice a year. These seminars proved to be a great success as many students became grandmasters (the most famous are Sergey Rublevsky and Alisa Galliamova; also Maxim Sorokin, Mikhail Ulybin, Alexander Volzhin, Svetlana Prudnikova, Sergey Volkov and some others).

During my last few years at school I worked as a trainer, and in 1990 I was the coach for the Russian team in the Soviet youth team championship (where young Kramnik and Rublevsky played). Unfortunately the school is now closed, because of financial problems.

In 1987 I became a Soviet chess master, 1989 - IM, 1992 - GM.

I help some of my friends with their training. I coached GM Tatiana Shumiakina (Cheliabinsk) during several tournaments like Soviet Championship (1990-3rd place, and 1991), and zonal championships (the best result was in Orel 1993, 1st place). I also assisted my friend GM Sergey Rublevsky when he faced strong competition during tournaments in Poljanica Zdroj (Poland): 1996 - 2nd place, behind Beliavsky; 1997 - 1st place, one point ahead of Gelfand, two points ahead of Bareev! Sergey has become a very strong player and his strength continues to increase.

In the last two years my involvement in chess tournaments has been reduced, since I became a father (my daughter is more than 1 year old now!).

My contact details are:

P.O. Box 4741
Cheliabinsk
454026
Russia

Tel./fax: +7-3512-135130 (unfortunately my wife Tatiana doesn't speak English)
Fax: +1-8153771033 (will be delivered to my E-mail)
E-mail: cherus@chel.surnet.ru

Some of my best results:


     1986,     Volgograd - champion of the USSR among students (+8=5), 

               one point ahead of Tiviakov.

     1987,     Anapa - champion of Russia (juniors-20) +6=5 

     1987,     Nizhny Novgorod (round) - won Cup of Russia (+5-1=6) (1-2 

               place with Vaulin) 

     1989,     Kramatorsk (Ukraine) - Soviet junior team championship, 1st 

               place in the team of Russia (+2=6) 

     1989/90,  Cheliabinsk - South Ural Cup (round) +6-2=6, 2-4 places with 

               Sveshnikov and Ulybin. I gained final IM norm and had my 

               first win against a grandmaster (Sveshnikov). 

     1990,     Kuibyshev (now Samara) - Russian Championship (round) 

               +4=11, 1-5 places with Makarov, Sorokin, Kramnik, Kharlov. 

     1991,     Taby (Sweden) (open) +7=2, 1st place (started 7 from 7) 

     1992,     Bled (Slovenija) (open) +5=4, 1st place 

     1992,     Helsinki (Finland) (open) +4-1=4, I gained first GM norm 

               by crushing M.Gurevich in the last round. 

     1992,     Belorechensk (Russia) (round) +8=5, where I achieved final 

               GM norm. 

     1992,     Europe Club Cup, 2nd place in the team of "Poliot" 

               (Cheliabinsk) 

     1992/93,  Hastings (England) (open), +7-1=3, 1st place. Having 3,5 

               from 4, I lost against McNab in 9 moves! I gained extra 

               GM norm. 

     1994,     Moscow - Russian team championship, 1st place in the team 

               of "Kadyr" (Cheliabinsk), played on the 1st board. 

     1995,     Akmola (Kazakhstan) (round) +4=7, 1st place 

     1995,     Ljubljana (Slovenija) - Europe Club Cup, 3rd place in the 

               team of "Kadyr" (Cheliabinsk), played on 2nd board.

               We have beaten the former champion "Bosna" with 4,5 to 1,5.

               "Bosna" had 2600 ELO on 6/th board, but Kasparov did not 

               play against us. 

     1996,     Decin (Czech Rep.), +6-1=2, 1 place 

     1996,     Poljanica Zdroj (Poland) +6=5, 1 place 

     1997,     Novgorod - Cup of Russia stage, +4=5, 1-3 places 

     1998,     St.Petersburg - Cup of Russia stage, +5=4, 1-2 places. 

     1999,     Tula - Cup of Russia stage, +4=5, 1 place. 


I offer comprehensive lessons here at chess.net ranging from beginner to expert levels for a very reasonable fee. I also suggest that you get Chessnet for Windows 2.0 complete with Internet Phone. This will allow me to speak to you without wasting valuable time on typing, and you will not have to pay for long-distance calls and a 2nd phone line. I look forward to seeing you at Chessnet.

Kind regards,
Ruslan Scherbakov



Visit GM Ruslan Scherbakov pages



---
Hardware & Software REBEL


Program: REBEL CENTURY using new king safety software to play against strong humans.
Opening book: REBEL CENTURY
PC: Kryotech AMD 600 Mhz, 128 Mb.
Other settings will be revealed during the game.


---
Conditions


The game is scheduled on Saturday January 8 10:00 New York / 16:00 Amsterdam time.


The time control is 40 moves in 2 hours and then one hour for the rest of the game so a game can not take longer than 6 hours.


Move transmission via the Internet Chess Club


It should be guaranteed that both players can not lose on time due to problems (time loss) with the move transmission over the net. These games are meant to give some light on the current state of art of the on-going Man versus Machine event and should reflect a normal face-to-face event. For that purpose an arbiter is appointed and his decisions will be final.


The arbiter is Enrique Irazoqui former chief editor of the "Computer Chess Reports" magazine.


To ensure fair play the arbiter is send the Rebel version before the game is started and the arbiter will check all moves played by Rebel. Another (second) arbiter is installed at the place of the grandmaster, the normal rules apply.


---
LIVE support


LIVE support of the game HERE. You DO NOT have to press the REFRESH button of your browser to get an update as the page is automatically refreshed after 3 minutes.


Programmer Ed Schröder will be available on REBEL-BOARD for short comments during the game.


Rebel company and ICC agreed that the match can be followed live on the Internet Chess Club also if you are not a paying member. Go to the above URL how to get access.


---