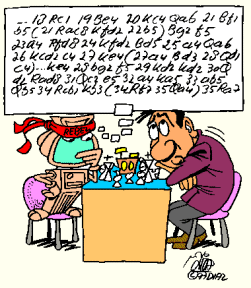 The CHESS 2010 POLL clearly shows that people consider Man versus Machine games to be more important than Computer versus Computer.

Due to the absence of strong Man versus Machine competitions Rebel company wants to introduce a new initiative called The Monthly GM Challenge.

The goal is that REBEL plays one LIVE tournament game against a grandmaster once a month. Live coverage including Rebel analysis via the Rebel Home Page.

Prizes:
$500 if the grandmaster wins against REBEL.
$250 for a draw.
No prize money in case of a loss against REBEL.
We challenge every chess player with an official FIDE grandmaster title to take the bite and play our program. You can contact us by email at Mail to REBEL. Acceptance of entries is done in the order we receive them.



The REBEL vs Lithuania event is a very special one. REBEL CENTURY will play against the top of the Baltijos Lyga chess club (located in Lithuania) on 4 boards. The event will be broadcasted on Lithuania radio and televison.

The four games are scheduled on Saturday September 18, 1999 and can be followed live on the Rebel home page and the ICC.
---
Baltijos Lyga information



| | | | | | |
| --- | --- | --- | --- | --- | --- |
| BOARD | PLAYER | TITLE | FIDE rating | Rebel Century | Result |


Rebel Century wins the match with 2½ - 1½


Comments from the chairman Marijus Kulvietis of the Baltijos Lyga chess club:

The players will play in the same positions for my club as in the Lithuanian team tournament. Thus battle vs Rebel I accept as any battle in team tournament vs another strong team.



Thus players are located in board positions not by ratings or other criterias , but in such order as I count better to place them in team tournament. The game vs Rebel team will look as simple match in a serious team tournament.



All 4 players will come at scheduled time to a restaurant in the center of Vilnius (our capital). They will sit near the wooden tournament boards and near the simple clocks. "Sony" centrum in Vilnius will make possible to show all 4 games be seen in the street and visitors will be free to enter and see playing players.



TV and radio will shot and record reports from the match. The public will have free beer from our sponsors,all visitors who will come to see the games.



Players will make moves and will think near wooden boards and internet company who will prepare computers in the playing place will make service-their workers will repeat simply mechanichally the moves on computers together with an arbiter and will make Rebel moves hitting the clock after this will be done in icc from Rebel side. So it will be done as a close imitation of a real human tournament.


The players will come as to such. Also public perfomance and advertising and such system will not allow players to talk or to help each other in any other way. They will be simply sitting near the boards.


Getting the moves from Rebel, brought by computers assistants and thinking. Audience, chessfans and journalists will watch their behaviour together with a referee and sponsors.


My goal is to show real strengh of our local club cast and possibilities in such conditions. I will not try to prepare my players some specially for anti-Rebel game...They are professionals and I want them to be ready to show what they can.

Download 695 games of the 4 players (Ruzele, Krivonosov, Zapolskis, Grabliauskas) of the Baltijos Lyga Chess Club.


Move me to The Chess Club Baltijos Lyga pages.


---
Photo's and comments of the event

Moving the mouse on a picture will show a short description.

Chess Club "Baltijos Lyga" Is Looking forward for the Rematch (summary from the central Lithuanian daily newspaper "Respublika")

For the first time in the history of sports in Lithuania chess fans could observe a unique match between the people and computers through the Internet. The team of chess club "Baltijos Lyga" tried its human abilities in the contest against electronic machines. This time the chess players were competing against the newest chess program version "Rebel Century", produced by Holland company "Rebel" which is one of the strongest computer chess companies. The Lithuanian chess club "Baltijos Lyga" yielded to the Rebel century with a minimal score 1.5:2.5.

The competition took place in the Irish ale-house "The Twins O'Brien", Vilnius. Lithuanian company "5 Continents" supplied the team with all the computer equipment necessary for the match through the internet. Players were sitting and thinking of their moves at the traditional chess boards while the moves from the "Rebel" were sent by computer operators. This way the imitation of classical chess game was achieved ad it was more attractive to the spectators who came to see this original chess event.

Lost with a minimal score

Chess club "Baltijos Lyga" was represented by International Grandmaster Darius Ruzele (FIDE rating 2515), a "legionary" from Latvia International Master Oleg Krivonosov (2432), International Master Antanas Zapolskis (2399) and International Master Virginijus Grabliauskas (2466).

The first to have finished his three hour game with black pieces was Oleg Krivonosov, known as an "unpiercing" chess player, able not to lose to any strong competitor. This time he didn't lose either. In the final 52nd pawn move the manager of "Rebel" team Ed Schroder suggested to draw the game.

The present champion of Lithuania Antanas Zapolskis was very active playing white, but the computer seemed to be stronger in the tactical contest and won in the 39th move. Ruzele succeeded to outwit the computer and finish the game in draw in 43 moves. V. Grabliauskas playing black was the last to finish the game. It was the most "anticomputer-like" game. Having deviated from the theoretical variants and played in a peculiar positional style, he reached more favorable situation, but didn't manage to gain victory the game was drawned in the 48th move.

A few moments after the match quotes from the daily newspapers "Lietuvos Rytas" and Russian magazine "Litovskij Kurjer"

The president of the chess club "Baltijos Lyga" Marijus Kulvietis: "It's quite different to compete with a man comparing to a computer. It's the other style of playing. One minds psychological factors while competing against the human. The opponent may get confused after an unexpected attack and make a mistake. The computer makes no mistakes. On the other hand a computer is not so industrious in creating positions. In my opinion, computer is a bit dull but very serious competitor. The players were very careful and tried not to lose in order to preserve their prestige and not to disappoint the team. I apologize completely the members of my club not having demonstrated sharp tactical combinations to the spectators. It's hardly possible while playing against computers."

International Master Antanas Zapolskis: "It's hard to compete against the machine. The computer neither has human intuition nor shows any emotion from itself, but it can analyze all possible moves. Unfortunately, I've made a mistake and lost the game. Nevertheless, this match is a good way to popularize chess.

International Master Oleg Krivonosov: "I didn't dare to risk playing this game. To say the truth I was trying to keep distance from my electronic partner as the boxers do in some situations. This way I could win but at least I didn't lose the game."

International Grandmaster Darius Ruzele: "To be honest I didn't expect to win the game. The machine is a strong rival. It has its own advantages. So does the man have. I had problems already from the opening and any grandmaster would have used this positional advantage to win the game. The program didn't understand the position and gave me a possibility to draw the game."

International Master Virginijus Grabliauskas: "I hoped, I felt in my hear I could win the game, but then "Rebel", not having paid any attention to my attack began to attack too, I simply believed that the competitor had calculated everything, instead of counting up logically myself. Then I started speeding up to draw the game."

Prepared specially for the "Rebel" by Marijus Kulvietis and Mindaugas Genutis.






---
The re-match!

Rebel Company and the Lithuania team agreed to play a re-match!

The Lithuania team is very eager to have this match and take revenge on Rebel's 2½ - 1½ victory.

We predict very exciting games!

Also the Lithuania team is different now, the players:



| | | | | | |
| --- | --- | --- | --- | --- | --- |
| BOARD | PLAYER | TITLE | FIDE rating | Rebel Century | Result |


Lithuania team wins the match with 2½ - 1½

Rebel Company congratulates Lithuania team!

Total score Rebel - Lithuania 4-4

The re-match was played on FRIDAY OCTOBER 15, 16:00 Amsterdam time (10:00 New York time) (10:00 ICC time).

LIVE support of the match as usual HERE and on the Internet Chess Club




Chairman Marijus Kulvietis of the Baltijos Lyga chess club before the Re-Match:

Dear Rebel Fans,

I`m proud to invite You to observe the rematch battle between the Rebel team and Lithuanian chess club "Baltijos Lyga". This time as a president of a club I want to revenge rebel of course and prepared the team that is ready in my opinion to win.

Here is the cast of " Baltijos Lyga " club :

1 board-/white color/-Darius Zagorskis-IM-2486
2 board-/black color/-Virginijus Grabliauskas-IM-2466
3 board-/white color/-Vaidas Sakalauskas-IM-2450
4 board -/black color/-Oleg Krivonosov-IM-2432


Dear Ed Schroder was little disappointed not to see GMs this time :) I understand him. Loosing for Rebel to GMs is more natural. And if Rebel will loose to so called "IMs company"-what will the audience say :)? I`m not rude or arrogant-just trying to make us all hot before the match :)

My guys are hot already. They want to win. Do You want to know my conception? Sorry-I will not say all the secrets of course. Only some words. Of course I was able to put GM in to the team just to see GMs name in the page. But i`m playing this match for win-not for page. After the first match I have gathered very strong IMs and very friendly team.

Of course advanced chessplayers will understand my choice. Playing against computer makes me to seek for players who are not playing crazy attacks by intuition. I need players with very good positional understanding. Who will be able to play in such formula:



Trying to get better position after beginning,no hurry,and looking spots in Rebel`s positional game.



Then using them and wining is possible only step by step showing best technique in endgames-where computer programs often don't understand well.




Yes-I think I have guys who are best in positional game for first. Who have good theory erudition and good positional understanding. IM Darius Zagorskis is very famous in Lithuania for his chess erudition. He has played many games for a Lithuania national team as only IM among GMs with rating 25++ often bigger then some GMs :) There are anecdotes about why he haven't become a GM being so good :) He is very kind man. If an equal position is on the board and Darius is asked about a draw-he always agrees. He can often battle trusting his higher class, but he cant simply decline draw :) Hope he will not accept draw against Rebel. :) His chess theory knowledge is compared with famous Estonian player Lembit Olli.

N2-IM-Virginijus Grabliauskas. You have seen him  first time. It was a draw. This time he plans to win. And very serious. He is experienced IM. I trust him. Virginijus has Russian school behind him-playing a draw vs Kasparov as a schoolboy in a simul and playing in Youth championships with such current tops as Kramnik.

N3-IM-Vaidas Sakalauskas. Very tricky man and player. Can change playing style. Difficult to catch him. Please don't try. Here I introduce him a little as he is new in our team vs rebel: Photo n1-Vaidas is taking a prize in international tournament in Sweden. He likes this procedure. And asks me if he will have occasion to play live vs Rebel and to take prize the same from rebel`s leaders in Holland. Well I`ll ask Ed.

Photo n2-I`m in the middle holding Vaidas Sakalauskas-and his best pupil in the other side-junior player-Dainius Grigutavicius. Hope this boy will play vs Rebel next year. Vaidas lives stabile in a small Lithuanian provincial town Radviliskis. This is really small town, but has great traditions to prepare good children for chess. Vaidas is educated high as a teacher of history, but likes his stabile job-training children beginners. He married this summer.I guess maybe we will have big Sakalauskas team :) Vaidas loves children. He can spent hours with great patient with them.

Well I have introduced a little our new player. We are good friends with him and I know a bit more about him. Concerning other new player Darius Zagorskis-please see databases and You will find many materials-I`m sure. He is old wolf.

As I`m not going to speak about players who had played first match-I will be short about our board n4: IM-Oleg Krivonosov. He is Latvian citizen who is playing more for Lithuanians and in Lithuania. But his family still lives in Daugavpils. Latvian town near the board of Lithuania. Oleg is very famous for his reputation as an "unpiercing" chessplayer. I don't know about his chances to win against Garry Kasparov. But it is very difficult to break his defence. He understands positions very deep, has wonderful technique in endgames. Also You cant take him only as a draw master. After perfect defence he can create totally other-aggressive style. And in any case I`m not telling even to Oleg-Your task is a draw.

As we are planning to win. Honestly-with some 3,5-0,5 score.

Such nice cocktail for the Rebel. If You hoped to see what openings who is playing-sorry :)

Lets see on friday.

Dear Chess friends-how it will end-I can promise-I have collected very special cast specially against Rebel`s game style. And I`m curious myself how it will go.

Anyway my hope is the same as your`s to see interesting chess in good quality. Let`s have a nice chess fiesta on friday.

Best wishes from Lithuania-

Marijus Kulvietis-

the president of chessclub "Baltijos Lyga"


---
Hardware & Software REBEL


Program: REBEL CENTURY
Opening book: Standard Rebel Century
PC: Kryotech AMD K6-III 600 Mhz, 128Mb.
Other settings will be revealed during the game.


---
Conditions


The game is scheduled on Saturday September 18, 10:00 New York / 16:00 Amsterdam time.


The time control is 40 moves in 2 hours and then one hour for the rest of the game so a game can not take longer than 6 hours.


Move transmission via the Internet Chess Club


It should be guaranteed that all players can not lose on time due to problems (time loss) with the move transmission over the net. These games are meant to give some light on the current state of art of the on-going Man versus Machine event and should reflect a normal face-to-face event. For that purpose an arbiter is appointed and his decisions will be final.


The arbiter is Enrique Irazoqui former chief editor of the "Computer Chess Reports" magazine.


To ensure fair play the arbiter is send the Rebel version before the game is started and the arbiter will check all moves played by Rebel. Another (second) arbiter is installed at the place of the grandmaster, the normal rules apply.


---
LIVE support

LIVE support of the game HERE. You DO NOT have to press the REFRESH button of your browser to get an update as the page is automatically refreshed after 3 minutes.

Programmer Ed Schröder will be available on REBEL-BOARD for comments during the game.


---